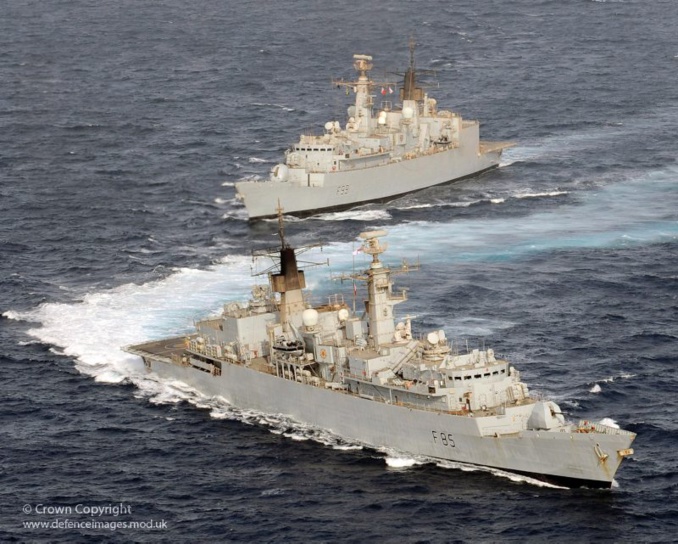 UK's freefalling military budgets and capacities
The UK's army has been bleeding for years, if not decades. Budgets started to dwindle in the 1960s, when it became apparent that the British Army would no longer be supporting and defending an empire. A second blow came at the end of the Cold War, where financial and popular support dropped once again. Even as recently as 2019, "
Defence chiefs are considering plans to slash the size of the British army and lend out one of the Royal Navy's flagship aircraft carriers amid fears they could be forced into further spending cuts
", British news outlets
report
. Signs of financial strain can be seen in every segment of the armed forces. The Royal Navy suffered a strategic gap before its new aircraft carrier could be hurriedly finished, thus temporarily dropping out of the small group of nations with such capacities. Expensive equipment is starting to be cannibalized: "
The UK has mothballed a quarter of its AgustaWestland Boeing WAH-64 Apache Longbow AH.1 attack helicopter following the end of combat operations in Afghanistan. According to IHS Jane's, 16 of the Army's 66 Apaches were placed into storage, leaving a force of 50 helicopters
", Defense Update
writes
.
Learning from past mistakes
The temptation to develop new programs from scratch, or to overstretch industrial capacities towards unrealistic goals, has affected just about every nation in history, as it has consistently and considerably impoverished the British armed forces. The most recent example of this tendency to oversize projects, which current budgets are unable to support, comes from the SAS command. Defence reporter Mark Nicol
writes
: "
The Special Air Service has been forced to mothball its state-of-the-art base and reduce its training schedule in an apparent cost-cutting move that raises fresh concerns about Britain's overstretched defence budget. Commanders of the elite regiment have also drastically cut the numbers of helicopter flights to and from the SAS's Stirling Lines barracks in Hereford and asked civilian workers to take their summer holidays at the same time as Special Forces soldiers, effectively closing the camp. Last week, thousands of computers and lights were disconnected at the barracks, and accommodation blocks, offices and training areas will remain closed this week
." Many such reckless endeavours have occurred, where significant resources were engaged and eventually wasted. Defence expert James Ashford writes: "
In 2018, the MoD committed to spending £179.6bn on its equipment plan over the next 10 years, £165m on its cyber plan and £50m on a five-year space programme.
" Much of these funds have, in the past, been squandered in new developments, for equipment which could have been acquired in a cheaper, and fire-tested version, from international partners.
Time to choose safe, and reliable options
The last things Great Britain can indulge in are dreams of glory or to experiment new technologies: the time is to stabilize, regroup and rebuild. The choice of the Boxer, in that regard, was a positive sign. London kept away from the gimmicks and turned to Artec, a known and reliable producer, to deliver 500 vehicles with fire-proven technologies, to protect its infantry. Command seems to be putting a damper on heavy armour replacement programs, which is probably a sign of wisdom: commercial options on the table are not yet clear, and armour is used very little in modern battles. As for artillery, things are somewhat trickier. Keeping
Britain's AS90s
makes little sense, as their potential will soon be overstretched, they put undue financial strain on the Army, and they are more trouble than help in overseas deployments. Finding equivalent replacements (such as the Pzh2000 or the Paladin) makes equally little sense: self-propelled artillery is atrociously expensive and tactically cumbersome. In addition, many of these howitzers have never seen battle, and Britain may not want to take the risk to field-test them at its own expense. London's best option seems to be across the Channel: by converting to truck-mounted Caesar artillery trucks (something many other modern armies have done), France has managed simultaneously to reduce military expenses, increase deployability and increase the number of available units, for an equal cost. Defence news Pierre Tran
writes
:
"The French Army has deployed its six-wheel drive Caesar in the Wagram task force, a French artillery unit in the allied Operation Inherent Resolve supporting the Iraqi Army in Mosul, Iraq. The first deployments were in Afghanistan and Mali. The eight-wheel drive version offers "improved operational autonomy and a platform offering significant growth potential for further adaptation," Nexter said."
It could be argued that the reckless projects which were undertaken in recent years, and which cost the Royal Army monies it could hardly afford to waste, were the result of resistance to change. Did dreams of past grandeur lead military leaders to lose touch with reality? If so, it is all the more unfortunate since the UK, even in its current state, still has a military future - and a great one, at that. The post COVID impacts are yet to be measured. The new government is working the Defence Integrated review and Army is being forced to consider the very future through the AFV review. This is the time when military planners have to consider what is priority and how to get the biggest 'bang for the buck'. There would be certainly heated debates between the current Secretary of State for Defence Ben Wallace and Rishi Sunak, Chancellor of the Exchequer.
In recent multinational operations, the United Kingdom has proven itself a formidable ally and a key component of coalitions. Britain's army no longer has a blank check, that is true. But, with reason and clairvoyance, it can resume its position as one of the world's great military nations.