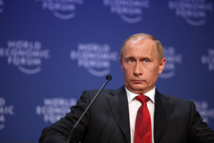 Photo by Remy Steinegger
In the Constantine Palace (residence of the President in St. Petersburg), negotiations began between Vladimir Putin and the head of Kyrgyzstan Almazbek Atambayev,
RBC
.ru reported. This was the first public appearance of the Russian president since March 5.
Before the meeting, Putin personally showed to foreign colleagues Constantine Palace Park. "Russian president not only walk, but also drives the wheel", - said the president of Kyrgyzstan. Atambayev said that he purposely makes this statement for journalists to spread rumors less.
The leader of Kyrgyzstan said that before, he have heard various rumors about himself too, but believes that spreading rumors about health is not quite right. In response, the Russian leader said: "It would be boring without gossips."
Footage of the meeting between the two presidents showed TV channel "Russia 1". It can be seen as Putin and Atambayev enter the meeting room (meeting takes place with a large gathering of journalists) and shake hands.
Speaking to reporters during the presidents' meeting, Putin's spokesman, Dmitry Peskov, commented rumors about the disappearance of the Russian president: "Have everyone seen the broken palsy president, captured by generals? Just flown in from Switzerland, where he took birth, as it known"(quoted by RIA News). Being asked about the rumors of the arrival of a foreign doctor to Putin, Peskov said: "Yes, he was also among the generals who took Putin over."
Information about the possible involvement of foreign doctors came on the eve of the Vienna newspaper Kurier. It reported that Putin is receiving treatment at the orthopedist from Austria who arrived in Moscow. According to the newspaper, the Russian leader is suffering from back pain. The physician's name and source of information Austrian newspaper does not reveals.
In the future, the Kremlin, according to Peskov, does not intend to comment on reports about Putin's health.
Vladimir Putin has not appeared in public since March 6. Last time he appeared in front of reporters on March 5. That day was a meeting with Italian Prime Minister Matteo Renzi. After that, Putin had only one public meeting: according to a report published on the Kremlin website and dated March 8, the president met with women whose children have achieved outstanding success in different areas.
March 11 Reuters reported about the cancellation of Putin's visit to Kazakhstan on March 12-13, due to illness. Then the agency cited the source in the government. In Astana, a meeting between Putin, Nursultan Nazarbayev and Alexander Lukashenko was scheduled. On the same day, the Kremlin rumors about the illness of the Russian leader denied. Peskov said that the president feels good and explained that the meeting in Astana postponed for a few days by mutual agreement.
Peskov later described the rumors about Putin's disease Putin as "spring exacerbation". On Monday, a spokesperson of the President of Kazakhstan Dauren Abaeva reported that Lukashenko, Nazarbayev and Putin's meeting will be held in Astana on 20 March.