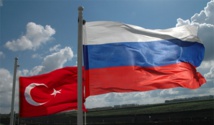 wikimedia
Downed aircraft SU-24 scared off international investors, says Vladimir Osakovsky and Türker Hamzaoglu, economists of BofA Merrill Lynch. "The news is negative for all asset classes of the Russian and Turkish markets " - they wrote. It has created a new level of political risk that is associated with likely increase in tension between the two countries in the near future, they point out.

This incident would lead to "diplomatic and economic tensions," but not to full-scale military conflict. "President Putin is not giving any guidance regarding explicitly addressed potential-military response, although he mentions that the bilateral relations are in danger. On the other hand, Head of EU diplomacy Federica Mogherini said after a conversation with NATO Secretary General that politicians need to avoid escalation of tension after the incident with the Russian Su-24 in Syria."

Nevertheless, the incident can have negative long-term consequences for the Russian market, believe the economists. It makes investors lose optimism and hope of improving relations between Russia and the West, they point out.

Russian companies present in the Turkish market are being vulnerable now: "Their stability can be a headache for the market." "In particular, Gazprom (Russian gas company) sold more than 20 billion cubic meters of gas to the Turkish market through the "Blue Stream" in the Black Sea in 2014. The number represents about 12% of total exports. Gazprom also considers Turkey important for implementing plans on delivering gas to Europe bypassing Ukraine. Sberbank of Russia owns DenizBank, which assets account for about 9% of Sberbank's consolidated assets, and profit - slightly more than 10% of consolidated net income, "- give the example Osakovski and Hamzaoglu.

Russia's response to the downed plane can, in turn, can hit the Turkish economy. Charlie Robertson of Renaissance Capital writes that ties between Russia and Turkey are quite strong. "In 2014, Russian imports to Turkey amounted to $ 25.3 billion, accounting for 10.4% of total imports into the country. Turkey, in turn, exported to Russia goods worth in total $ 5.9 billion (3.8% of total exports),"- says Robertson. Russian gas imports to Turkey is 60%, add Osakovski and Hamzaoglu. "It is highly unlikely now that Turkey will receive the long-awaited 10-percent decline in oil prices," - they write. In addition, a significant number of Turkish companies operates in Russia in various sectors - for example, in construction and retail trade. "This means that Russia has an opportunity to take economical revenge" - sum BofA Merrill Lynch's economists.

Tourism is even more important direction for Turkey, says Robertson. 4.48 million Russian tourists visited Turkey in 2014, this is 12% of the total tourist flow to Turkey. Only Germany delivers greater number of tourists to this country (5.25 million in 2014). "If Putin really wants to irritate Turkey, he may suspend the visa-free regime between the two countries" - says Robertson.