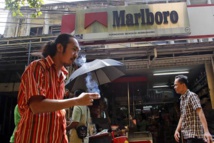 As per two confirmed sources, Phillip Morris, the US based cigarette giant, plans on selling a stake in PT HM Sampoerna Tbk, for around one billion dollars. It will be doing so, in order to comply with Indonesia's free-float rules which are designed to boost market liquidity.
Going by market value its huge market value of 98.18%, Sampoerna is Indonesia's biggest cigarette maker. Its net worth is $23 billion. Being extremely popular in Indonesia, Sampoerna sells most of what it produces in Indonesia. Smoking cigarette is a widespread phenomenon and Sampoerna controls nearly 35% of the market share.
As per a source, Philip Morris has already shortlisted companies which will sell its holdings of PT HM Sampoerna Tbk by at least 5.68% and give regular investors the opportunity to buy PT HM Sampoerna Tbk's publicly available shares so as to make PT HM Sampoerna Tbk's public holding at least 7.5% of its total share base.
Indonesia's stock exchange listing rules require that by Jan 30, 2016, all companies and registered with it have at least 7.5% as free float of its total share base. As per available sources, although it is clear that Philip Morris plans on selling its stake so as to comply with this norm, it is not clear exactly when it will do so.
Regular market followers will remember Phillip Morris stating earlier, that it would explore the possibilities of complying with the new free-float rule.
With this news leaking out, the shares of Sampoerna rose by 0.8%, outperforming the Jakarta Stock Exchange, which dipped by 1.2%.
All parties to this sale, including, Goldman Sach, Citigroup, J.P Morgan and Citigroup declined to comment on this purported sale of its stake. Mandiri Sekuritas was also mum on the matter.
Sources cited in this article also preferred the cover of anonymity and declined to be named since confidentiality was of the essence.
References:
http://www.reuters.com/article/2015/07/06/us-pmi-hm-sampoerna-idUSKCN0PG0ML20150706