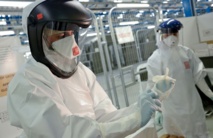 DFID - UK Department for International Development
According to the newspaper, the 65-year-old man, whose name was not disclosed, died of complications from the disease on June 6 in a hospital in the federal state of Lower Saxony. However, it has become known only now.

A German citizen was infected during a holiday in the capital of the United Arab Emirates - Abu Dhabi - in February this year. Doctors believed that the patient was able to defeat the disease, and from mid-May, he had not been quarantined.

Most hard of all, MERS coronavirus hit South Korea in 2015. There's the death toll reached 19 people, another 154 people are infected, reports "Yonhap". More than 5500 people are in quarantine because of possible contact with the sick. Currently more than 2 thousand of educational institutions, including 20 universities in South Korea are closed because of the outbreak of the virus. Infected took dozens of medical institutions of the country.

Earlier, South Korean police arrested eight people for spreading unverified rumors about the virus MERS and disclosure of personal information without the permission of the patients. This was reported by the agency "Yonhap".

Five detainees are accused of defamation and damage to business reputation - according to the police, they listed the names of hospitals where patients supposedly contained MERS in conversations with acquaintances. Two others are municipal officials who are suspected that they have issued a list of possible patients on their own initiative. Eight arrested, pretending to be a journalist, was engaged in distribution of false rumors and panic pumping.

The authorities keep track of the mobile phone location and contacts of people suspected in having coronavirus MERS – reported agency Reuters June 8 news. At least 2300 people have to be quarantined. Some of them are in the health facilities, but the majority is experiencing the period of quarantine at home. Health Ministry insists that they must not leave their homes.

In mid-June, the experts of the World Health Organization acknowledged that MERS coronavirus outbreak in South Korea is "a great and serious" and should expect new cases. The virus also has affected some countries in the Middle East.

Middle East Respiratory Syndrome Coronavirus (MERS) - an inflammatory disease of the respiratory system. Neither vaccine nor specific antiviral therapy for infection currently exists. The virus was first identified in humans in 2012 in Saudi Arabia, and in May 2015, a South Korean businessman has brought the infection to his homeland.