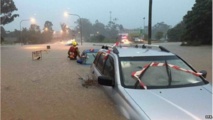 Storms that ravaged Australia during the months of April and May have left widespread scars on the country in terms of damages incurred. The worst hit areas reported are New South Wales, Greater Sydney, Central Coast, Hunter region and south-east Queensland.
Losses have been reported to properties on a massive scale while tragic loss of lives has also been noted. New South Wales, the worst affected state, reported the death of four people while countless people have been left homeless. An 86 year old woman passed away when her car was swept away by rushing storm waters. Two men and a woman were also reported dead from Dungog in north Sydney, one of the worst affected areas.
Australia especially New South Wales seems paralysed both economically and physically with ports for coal fields shutting down; air and road traffic halted; power grids completely dysfunctional. Thousands of people have been rendered homeless. 2,500 passengers on a cruise ship trapped in sea due to the storms, finally reached dry land and expressed relief in returning unscathed.
The Insurance Council of Australia (ICA)
said its members
have received over 120,000 insurance claims from destitute Australians hit by the natural calamity. Insurance claims have now added up to an estimate of above 1.55bn Australian Dollars (1.1bn USD), making this one of the biggest insurance losses the Australian insurance industry has had to face. The ICA presents insurance loss figures upwards of 800 million Australian dollars just from central and eastern NSW storm losses of which Aus $629.6m was for domestic claims.
The storms that ravaged northern NSW and south-east Queensland from 30
th
April to 4
th
May has led to Aus $360.2m in losses, of which Aus $290m are from domestic claims.
According to ICA, insurance brokers and insurers are receiving fresh claims continually from commercial and household policyholders.
Most claims are being classified as low intensity losses mostly due to houses flooding or strong wind caused damages, but certain claims among these are severe with many having lost their homes and livelihoods. ICA has instructed insurers to even accept claims concerning storm water deluge.
Insurance losses from declared catastrophes
The ICA has declared these recent storms as national catastrophes and promised to dole out insurance claims for all affected citizens.
Australia has been affected by such large scale catastrophes before too; especially this year has been tough on the country. Two major storms hit Australia forcing evacuations in coastal areas. Tropical cyclone Lam hit northern territory while tropical cyclone Marcia hit the Queensland coast between Saint Lawrence and Yeppoon.
The ICA has previously settled insurance claims worth 1.4bn Australian dollars for the 2007 storm; and 1.1bn Australian dollars in 2013 for damages caused by Cyclone Oswald. The 2011 Queensland flooding created insurance losses of around Aus $2.4bn. This year has been particularly tough for the insurance industry as repeated natural calamities since November 2014 has racked up insurance losses faced due to ICA declared natural catastrophes up to more than 3.45bn Australian dollars.