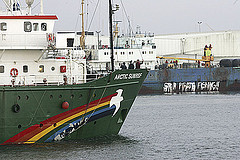 Around 900 illegal migrants are believed to be dead in the Mediterranean Sea as the boat they were sailing in capsized as they moved from various parts of Africa to the European Union.
The incident happened outside of Libyan territorial waters near the Italian island of Lampedusa. Naval ships and commercial vessels involved in the rescue operation had managed to rescue 28 people and retrieve 24 bodies from the waters.
Philip Hammond, the UK foreign secretary, said authorities need to identify and tackle human traffickers to deal with the mounting deaths of desperate migrants. "The world is horrified at the appalling loss of life that it is taking place in the Mediterranean and rightly angered by the cynicism of the criminal gangs who are profiting from this people-trade," Hammond said. "Stopping this needless suffering is a huge international challenge which demands a comprehensive, co-ordinated response. We must target the traffickers who are responsible for so many people dying at sea and prevent their innocent victims from being tricked or forced into making these perilous journeys."
The European Union is under duress on the increasing number of cases of illegal migration to the continent. Several government leaders in the European Union have called for emergency talks and the Union's foreign and interior ministers are scheduled to discuss the immigration crisis at a meeting in Luxembourg on Monday. The EU's foreign policy chief Federica Mogherini reportedly said that the "EU has no more excuses". She added that authorities would reportedly discuss if the 28 EU leaders should hold an emergency summit this week.
The current EU president Latvia is urging the union's executive arm to make new measures to enhance Europe's border agency to better respond to the crisis in the Mediterranean. The presidency "is committed to facilitate swift adoption of short-term emergency measures once they are proposed," Latvian Interior Minister Rihards Kozlovskis reportedly said.
French President Francois Hollande has also condemned the tragedy. He called the disaster "the worst catastrophe in recent years," adding that Europe needed "more boats, more overflights and a much more intense battle against people trafficking."
The refugees have paid exorbitant sums to the ship companies to make the short but often dangerous journey from the North African coast to Europe through the Mediterranean Sea. Italy says it is facing an unprecedented exodus of migrants and has repeatedly appealed to the European Union for more money, boats, aircraft and personnel to help with search and rescue operations.