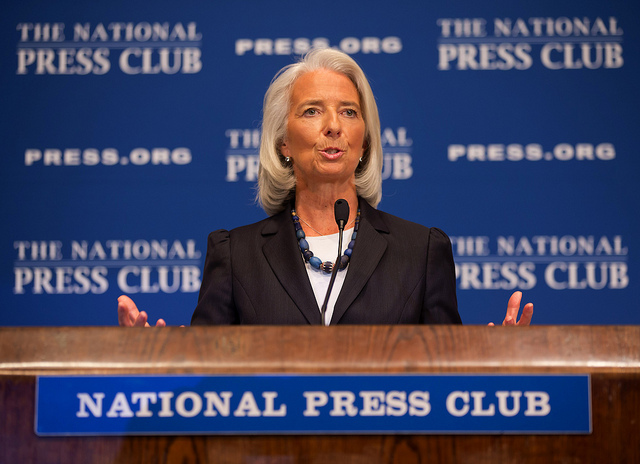 International Monetary Fund has raised its growth forecast for India in the current fiscal to 7.2 percent.
The organization has lauded the country calling it as a bright spot in the landscape of global economy while also pointing out obvious flaws in its growth curve.
In the yearly assessment report, IMF has noted that India has emerged as one of the fastest-growing big emerging market economies. It also pointed that the next fiscal of 2015-16 will see the country tipping at 7.5 percent of growth.
The report also pointed out that the country needs to take measures to revitalize the investment cycle and accelerate structural reforms in the country. The new forecasts by IMF has also considered a revised methodology adopted by India earlier this year for calculating the GDP figures. The organization has noted that it is a well-needed improvement in how the country measures its economic output.
The impressive forecast by IMF could be compared with the growth rate of 5.6 percent that was forecasted for the current fiscal in last year.
IMF said that positive policy actions that have improved confidence and lower global oil prices. The organization is bullish about the next fiscal on the back of stronger investment flows following improvements to the business climate.
"Growth numbers are now much higher and the current account deficit is comfortable, in part due to the fall in gold imports and lower oil prices," IMF Mission Chief for India Paul Cashin said. He added that bolstering financial sector health and further financial inclusion would support growth going ahead.
IMF also noted that the country could cope with external shocks, although there are possible risks on the horizon, both external and domestic. External risks include a prolonged period of weak global growth, which could dampen Indian exports. Domestic risks include a supply-driven increase in inflation, further lull in bank asset quality and continued stress in corporate financial positions, as well as slower-than-expected progress in addressing supply-side bottlenecks, which could affect both growth and stoke inflation.
"Spillovers from weak global growth and global financial market volatility could be disruptive, including from any unexpected developments as the United States begins to raise its interest rates," Cashin said.
IMF has been appreciative of the Indian government's policy initiatives which has helped the country to bounce up so impressively.
If external pressures re-emerge, rupee flexibility should be an important shock-absorber, along with "judicious foreign exchange intervention, tightening of monetary conditions, and additional fiscal adjustment".
Reference:
http://www.reuters.com/article/2015/03/11/us-general-electric-divestiture-idUSKBN0M72IY20150311