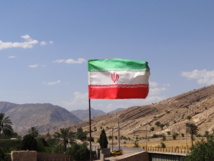 Adam Jones
According to Alison Graham, Chief Investment Officer of the New York Voltan Capital Management, the population of Iran is well-educated, the middle class is waste and industrial base is large enough. Meanwhile, the rate of growth, and the estimated investment potential of the country is comparable with countries that are at earlier stages of development.

The issue when and how sanctions could be lifted remains a subject of heated debate. Iran insists on the abolition of financial sanctions, which are a major obstacle to investment in the stock market in the country.

According to Reuters, Iran would be, perhaps, the largest country, which will return to the global economy after post-communist Eastern Europe has made it in the early 1990s. During the coming economic recovery in the country, the analysts are expecting the creation a new multi-billion dollar business, and offsetting the economic balance in the Gulf – so far, only oil-exporting countries had the greatest weight in the region. GDP growth will increase from 2% to 5% in the first year after the deal on its nuclear program. Later, it can be accelerated up to 7-8%.

Ramin Rabii, managing director of Turquoise Partners, an investment firm based in Tehran, for many years tried to overcome the problems caused by sanctions - unstable growth, high inflation, international banking restrictions and the lack of currency. Agreement to limit Iran's nuclear program reached last week could start solving endless problems of Turquoise Partners and thousands of other Iranian firms. According to Rabii, they have been preparing for this moment for 10 years.

In the past few months, the company Turquoise discussed with hundreds of potential foreign investors the possibility of cooperation if sanctions are lifted. Now, the company intends to develop asset management and brokerage business. Turquoise is going to hold road shows for investors in Europe and possibly in Dubai. According to Rabii, the Iranian industry is currently engaged by 60-70%. The remaining 30% of the capacity idle due to sanctions.

Many regions of the Gulf will reap benefits from the return of Iran into the world economy and, above all, Dubai, since it is the traditional center of business with Iran. Also, this city harbor a large Iranian community.

There are very different opinions. Foreign Policy reports that an agreement on its nuclear program does not switch on "green light" for the business. The lifting of sanctions depends on the finish of the transaction to be concluded in the summer of 2015, as well as the confirmation of the international inspectors that Tehran has fulfilled its promises. In addition, Iran still face many obstacles. After years of limitations, international banks and companies are afraid to do business in Iran, as they fear that Iran could return to the list of rogue states.