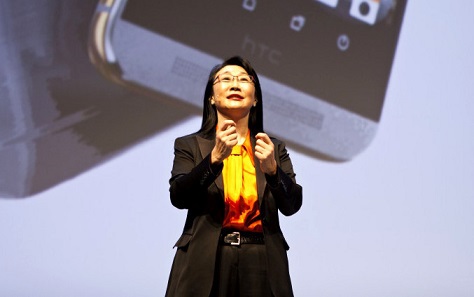 The struggling Taiwanese smartphones manufacturer, HTC has shaken up its executive suite. HTC's board of directors positioned the co-founder of the company, Cher Wang as its new CEO with immediate effects on 20 March 2015. The chairwoman Cher Wang replaces Peter Chou, who will be transitioning into a new strategic role for company's product innovation. The industry is marked by surprising innovations in terms of technology as we are getting connected to the expanding world of smart devices. Wang said that, being an entrepreneur she is completely thrilled to experience new opportunities and is all set to utilize this opportunity to shape the path of HTC's future expansion.

Besides serving as the Co-founder and also the Chairwoman, Wang was lately involved in managing different aspects of the company. With the aim to step into the next stage of expansion, the Board decided that this is apparently the strategic time to make the needed transition.

HTC's evolution from a handheld device maker to an international company was successfully led by Chou. Now, he will be heading the Future Development Lab of HTC to increase focus on successfully recognizing upcoming growth opportunities as the company is facing difficulties to drive its profitability. During the fourth quarter 2014, the Taiwanese smartphone maker recorded a loss of nearly $ 52 million.
The announcement of leadership change came at a time when HTC was in dire need of such change. As the company is witnessing stagnation in its design and the smart devices are considered static over the past couple of years at least in terms of design. Last time, when HTC implemented modifications to the company for development in terms of revenue, it was in 2011 and therefore it posted 67% of substantial growth in its profits during the period. While in 2012, the company's profits declined 38% and plunged further by 30% in the year 2013.

However, HTC should considerably focus on its smartphone business, the segment that acts as major contributor towards overall revenue of the company. Moreover, Peter Chou, new head of design at HTC will be largely focusing on boosting company's future growth. It is said that the company is not bringing any innovative changes in its array of product. The largest failure for HTC is its ineffective marketing strategies that are unable to connect with the consumers. Moreover the company does not have complete control over its supply chain and has to purchase different components.

With consumers shifting to advanced products like virtual reality and wearable smart devices, HTC is required to make significant alteration in its way of managing business. Moreover, the company focus should be on innovating new smart devices in order to keep pace with its rivals. The company is concentrating on the potentials of the new generation of smart devices. HTC's virtual reality product, HTC Vive received an overwhelming response in the beginning of this month. This highlighted the significance of upcoming innovative connected technologies. However, it cannot be overlooked that HTC is making certain attempts to bring change by its announcement of its partnership with Valve named Vive for making virtual reality headsets which is specifically targeted at gamers.