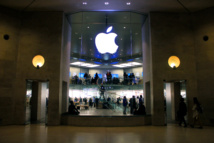 Mikhail (Vokabre) Shcherbakov/Flickr
In the first quarter of 2016, Apple will reduce production of the iPhone 6 and iPhone 6s models by 30%. This is was announced by the Japanese business publication Nikkei Asian Review referring to smartphones components suppliers.

Initially, the company planned to keep the updated models' output at the level of their predecessors, the sixth generation. However, this decision was reversed on the background of decline in retail sales, as stores have accumulated too many models. Apple reckons that cut in production will allow retailers to sell the sluggish inventories out.

According to Nikkei, the company's decision may adversely affect suppliers of displays, such as Japan Display, Sharp and LGDisplay, the image sensor manufacturer Sony, as well as TDK, Alps Electric and Kyocera. At that, in 2013, when Apple also lowered the production, suppliers of IPhone components shunted to other phone manufacturers.

The information on plans to reduce production already had a negative impact on Apple's stocks. In the course of trading on the NASDAQ high-tech, the company's shares fell by 2.5%.

Nikkei's report also negatively affected manufacturers of components for Apple. Japanese display suppliers Japan Display and Sharp fell 3.2% and 4.1%, respectively. Stocks of Pegatron, which assembles iPhones, fell down by 5.6%.

In late October, presenting the report for the fourth quarter, Apple CEO Tim Cook described the fiscal year's ending as the most successful in the company's history. Its annual revenue grew by 28% having reached almost $ 234 billion. Number of iPads sold in the world fell by 19.8%.

In the last quarter, Apple Watch tested pre-sales for the first time. There is little doubt that the analysts' predictions come true and Apple managed to encash about 5.5 million Apple Watch in the last quarter of 2015. With the device's average selling price (ASP) of $ 475, Apple Watch add about $ 2.6 billion in the company's revenue, accounting for 3% of total revenue and affix $ 0.11 to earnings per share.

Each million of Apple Watch sold brings revenue of $ 475 million and earnings per share around $ 0.02.