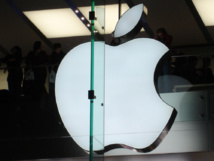 Marco Paköeningrat
Due to the strong results, Apple increased the return capital to shareholders programme by 50%: now the company intends to use a total of more than $ 200 billion until the end of March 2017, said the company's press release. In particular, the repurchase of shares increased from $ 90 billion to $ 140 billion. Its quarterly dividend are increased by 11% - to 52 cents per share.

The price of the Apple rose 1.3% in trading in New York after the close of the substantive session of April 27th.

As reported in the statements of the company, its net profit for the second fiscal quarter ended March 28, 2015, were $ 13.6 billion, compared with $ 10.2 billion in the same period a year earlier. Earnings per share jumped by 40.4% - from $ 1.66 to $ 2.33. In April 2014, Apple held a stock split at the rate of 1 to 7 and recalculate the results for prior periods accordingly.

Quarterly revenue increased by 27.2% - from $ 45.6 billion to $ 58 billion. The share of international sales at the same time had 69% of revenue - more than in the last few quarters.

Analysts, polled by Thomson Reuters, forecast Apple's earnings of $ 2.14 per share, on revenue of $ 55.75 billion. The upper limit of the company's own forecast revenue of $ 55 billion.

Sales of iPhone, which accounted for the major portion of Apple's revenue, made in the last quarter of 61.2 million units, which is 40% more than in January-March 2014. The fourth consecutive quarter rise of more than 10%, and this time it again exceeded the most optimistic expectations of Wall Street. The average price of iPhone sales increased by 10.4% on an annualized basis - from $ 597 to $ 659.

Sales of Mac computers grew by 10% - up to 4.6 million. However, the iPad tablet remains a bottleneck: the second fiscal quarter's decline in their implementation has increased to 23% (12.6 million units). Reducing has been lasted for five quarters against the background of competition from lower-cost tablets.

- We are incredibly excited about iPhone, Mac and App Store's confident indicators, which continue to set new records and contribute to better results of the March quarter in history. We see that the iPhone goes to more people than in previous cycles, and the June quarter, we started with the successful launch of Apple Watch , - said Tim Cook.

Total sales of Apple in China jumped 71% to $ 16.8 billion, thanks to the celebration of the New Year according to the lunar calendar, which fell to mid-February this year. For the first time, China pressed the United States to become the largest market for the iPhone, and for the first time surpassed Europe in terms of revenue. Apple's revenue in Europe was $ 12.2 billion in the second fiscal quarter.

By mid-2016, Apple plans to bring the number of stores in China to 40.