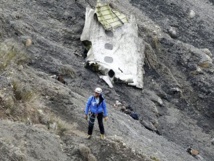 RE TV via youtube
- The first results of decoding indicate that the pilot, who was in the cockpit, gave the order to autopilot to drop down to height of 100 feet - France 24 quotes BEA's statement.
While lowering, he several times changed the parameters of the autopilot to increase the speed of the aircraft.
Impact on the ground was so powerful that it literally crumbled airliner into small pieces.
The representative of the National Gendarmerie Patrick Touron said that there was no single body.
The second "black box" was found the day before, on Thursday, April 2nd.
Earlier, flight recorders deciphering of talk in the cockpit allowed to assume that the cause of the crash was deliberate action of the second pilot, 27-year-old Andreas Lubitz.
As German tabloid Bild found from sources close to the investigation, 27-year-old Lubitz concealed from doctors that he continues to fly, despite of being inappropriate due to his medical condition.
From the medical records of the pilot, it follows that he had problems with his vision and he regularly visited a doctor.
In particular, the last time Lubitz visited an ophthalmologist at the University Hospital Düsseldorf in March 10, just two weeks before the disaster -.
According to sources, during his visits to physicians, Lubicz put them on notice that he was a pilot, and in some cases even specified that he works in Germanwings.
However, he lied that he was on sick leave, are not flying, but "really wants to go back to work," says the newspaper.
It became known from the documents, examined by investigators, that a car accident, occurred to him at the end of 2014, became the cause of Lubitz's visual impairment.
According to the pilot, airbag, triggered when accident, injured him, after what he became worse to see.
As Lubitz confessed, after the accident,
it often appeared
dark
around him.
At the same time, appointed medical magnetic resonance imaging (MRI) showed that for the pilot, there is no change in the internal organs.
According to Bild, moreover, Lubicz did not hide anything about being treated with psychotropic drugs, since experiencing severe bouts of depression and panic attacks.
A320 passenger aircraft by airline Germanwings, flying from Barcelona to Dusseldorf, crashed on March 24 in the Alps in the south of France.
144 passengers and six crew members were killed.
After the tragedy, European airlines have begun to introduce new rules on pilots being in cockpits during flight.
Thenceforth, the presence of at least two people in the cockpit during the voyage is supposed to become mandatory.
source:
bild
.de