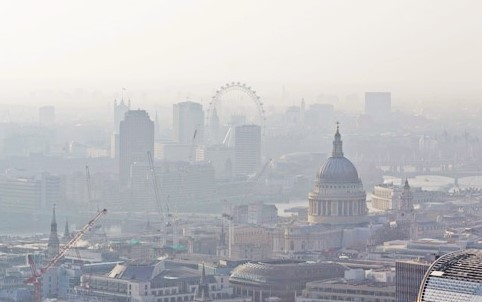 The air pollution level is at its peak, particularly in England where the government is requesting people to reduce physical activities. The alarming level of air pollution coupled with warm weather is likely to trigger health problems. The entire UK is likely to elevated air pollution on Friday as polluted air from Europe will be spreading northwards.

The northern, central as well as the eastern England is expected to witness increased amount of pollution, but the worst affected area will be the south east England. The Department for Environment, Food and Rural Affairs (DEFRA) have cautioned that people suffering from heart and lung problems should not be involved in physical exertion during the peak levels of air pollution. Even the healthy members should not indulge in physical activities in case they experience sore throat or cough.

Due to the rising pressure, the UK is experiencing the heat of summer since the Easter which has led to a gradual increase in the amount of pollution. Moreover, soft winds have prohibited the pollutions from vehicles and factories from scattering and kept it trapped at the surface.

The death toll due to increasing air pollution can rise substantially because the toxic impact of nitrogen dioxide emission from fossil fuel burning is life threatening. The burning woods, use of coal for industrial purposes and forest fires are vital factors adding to the increased level of air pollution.
Deaths from air pollution in different parts of the world are rising. According to the Institute of Health Metrics and Evaluation at the University of Washington in Seattle, 3.4 million deaths occurred due to outdoor pollution in 2010 as compared to 3 million in 1990. By adding the impact of indoor pollution, the death tolls raised to seven million per year according to the World Health Organisation (WHO).

The danger from rising air pollution is pointing to the fact that in order to save the world we need to shift our transport system from fossil fuels towards electricity. This will curb the worldwide pollution and control climate changes.

As estimated by WHO, almost 500,000 people in Europe die premature death every year because of pollution. The impact of air pollution has gone beyond asthma or respiratory diseases and even heart attacks. According to European Study of Cohorts for Air Pollution Effects (ESCAPE) in July 2013 indicates that people loving beside main roads in nine countries throughout Europe and raised the chances of lung cancer. The International Agency for Research in Cancer (IARC) has stated that the outdoor air pollution is causing lung as well as Bladder cancer. High pollution also declines the fertility and is often linked to obesity.

The factors responsible for increasing level of pollution on 10 March 2015 are dirty air flowing from the continent, Saharan dust particles and warm weather conditions. All these resulted in continuous harmful pollution levels for several days in previous year. And, the temperature is likely to reach about 20C.