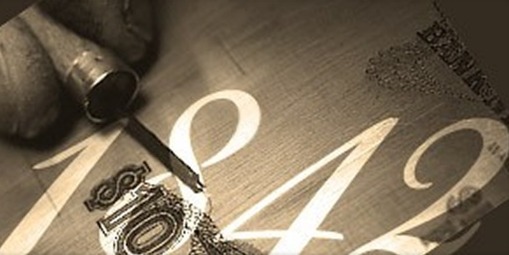 Credit: Oberthur Fiduciaire
Here at Oberthur Fiduciaire you are doing a fascinating job; printing banknotes for 70-80 central banks across the world. How does a national bank choose a printing company? What are the criteria and the specifications?
There are few companies that are qualified to print banknotes and have the right security to be able to offer that to central banks. The criteria to choose a supplier is obviously based on the technical ability, the experience and security, and then, of course price comes into play. The purchasing processes are becoming more and more professional. Now, there are tenders with pre-qualifications for example.
Your company has been knowledgeable in this sector since 1842. How did the printing industry evolve since then? How has it changed the profile of your collaborators?
The technology has obviously changed, even though one of the main technologies used since the very beginning is still used today – intaglio printing, used almost exclusively in this industry for printing banknotes. But there are many different techniques that have been adopted more recently, such as varnishing, which emerged maybe 10 -15 years ago. Today, printing a banknote is a multi-step process, you can have as much as 8 or 9 different processes and many different machines that come into play for producing banknotes, which has made the entire process all the more complicated. Of course, the qualifications of our employees has changed along with that evolution. Today, many printing skills, finishing skills and design skills are needed, besides growing R&D activities, all which develop new security features to adapt new techniques and new processes, to enhance the security and the durability of banknotes. These are some of the main concerns of the central banks we work with.
How has the technological evolution of the job affected the business strategies of Oberthur Fiduciaire?
There has been an evolution in the printing techniques themselves, which has had an impact on the day-to-day. With all of the security features that are incorporated into the printing process, such as holograms or threads, there are many different kinds of security elements incorporated into the banknotes. We are a printing company. So when it comes to strategy, we have to master the printing techniques themselves, but we also have to master the job of integrating different technologies, different substrates and different security features. We have to do that within an environment that is highly industrial, because we're supplying billions of individuals with products that are numbered and personalized. And these products need to be so secure that forgery would be impossible, with the resistance needed to last the day-to-day use of a banknote.
What are the components of a banknote, and is that specific to fiduciary printing?
Part of the security of our business comes from the supply chain, which is unique to the industry. Banknote paper is very specific one, only used for banknotes, and manufactured by extremely niche suppliers who will only sell to recognized banknote printers (state printers or private printers). The same goes for the ink, which is made exclusively for banknote printing. The ink is resistant and has integrated security features, to be long lasting. You won't find these requirements anywhere else in the printing industry. It's very unique – from the holograms designed for banknotes to the threads specifically designed to be incorporated in the banknote paper. The entire supply chain is dedicated to this industry and that's a large part of the security of a banknote.
Why are the designs and the esthetics so important to the overall process?
The design is essential because it's a matter of security and conveys the image of a country. We incorporate the security features into the design. But there is also an artistic part to it. You have to be able to understand the history and the symbols of a country to create attractive designs tailored to the specific culture. That is what makes the design of each banknote very interesting.
Can you explain how Oberthur Fiduciaire integrates the securities and technological crucial points to prevent forgery?
Obviously I can't go into too much detail into the secure technologies that we use, but there can't be only one security feature that prevents counterfeiting. For us, we use a collection of different barriers to fight potential forgers. There are a lot of technologies used to make the paper itself, the threads, the fibers, the printing techniques… It's a very thorough combination of different security features. And our business is evolving constantly because we have to introduce new security features on an ongoing basis.
You recently created a joint-venture out of Bulgaria for banknote production. Are new markets in emerging countries an opportunity for you to grow?
Definitely yes! But that is separate from our joint venture in Bulgaria. We operate in both developed countries and emerging countries. It's been like this since the beginning. We are now addressing the market from our two plants in France and Bulgaria. We have the exact same standards in terms of quality, security, knowhow and capabilities from those two plants. The clients who choose Oberthur Fiduciaire as a supplier know that they will get the exact same quality whether banknotes are printed in France or in Bulgaria.
Will banknotes survive the rise of online payments?
I think there are a lot of preconceived ideas about that. I can't predict whether or not banknotes will have disappeared in two hundred years. There is competition between print payments and the evolving electronic methods today. But we actually just completed a thorough statistical analysis in developed countries. Interestingly enough, we have found that usage of banknotes has consistently increased over the last fifteen years, between 50% and 100%. While I can't see future, the volume of printed banknotes is growing faster than GDPs. That might come as a shock considering the rise in electronic payments, but the reality is that cash is still king and growing in developed economies… and even faster in emerging economies.