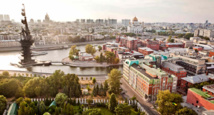 The bear-like Russian economy is now a raging bull. From the perspective of any portfolio manager, this has been the case for ages. The reputed CFA Institute's Global Survey has billed Russia as a top four contender for growth equity. Global fund managers have been proven wrong, and World Bank thinks Russia is set to fare better in the next year.
The World Bank adjusted its predictions of the sanctions-hit Russian economy, after considering average oil prices of $58 and $63.6 per barrel for 2015 and 2016 respectively. This assumption by World Bank is fuelled by the fact that Russia is once again carrying out oil trade. Oil trade might not work wonders for Russia, but it is good news for investors with
beat down Russian energy stocks like Gazprom and Rosneft.
Prior reports had projected Russia's GDP to shrink by 5%, instead now the figure has come down to 2.7%, with 0.7% rise projected for 2016. In 2017, Russian GDP is said to climb to 2.5%. World Bank puts Russia in a comfortable position, away from its proxy war with Ukraine, all based on future oil prices.
Birgit Hansl, World Bank Lead Economist for the Russian Federation
has said, "That would allow the Central Bank of Russia to pursue monetary easing at a more rapid pace for the rest of 2015, as a result bringing down borrowing costs and increasing lending to firms and households. Both investment and consumption growth would contract slightly less than previously expected."
Earlier this year, David Herne, a portfolio manager at SPRING Asset Management
, a $600 million Moscow-based investment firm, told FORBES in an interview that he expected Russia to grow past the negativity. He said, "Russia will do better than anyone expects again this year, I can guarantee you that."
Last December, when oil prices fell below $45 per barrel, the market went for a free fall in Russia. The Ruble weakened, only to be carefully guided by
Elvira Nabiullina,
central banker to Russia. A serious crisis was restricted by Nabiullina, and both the ruble and market are operating at stable rates.
Consumer spending is said to be less in 2015 and 2016 but investments are set to grow gradually by 2017. Martin Charmoy, director of Prosperity Capital, has gone on record to say, "The (Russia) opportunity is too huge to ignore".
Global fund managers predicted the following four to present the best returns:
From U.S.A. - SPDR S&P 500: +2.93%
From China - iShares FTSE China: 18.44%
From India - Wisdom Tree India: +0.18%
From Russia - Market Vectors Russia: +25.55%
The two biggest ETFs in Russia, Market Vectors Russia (RSX) and Market Vectors Russia Small Cap (RSXJ), are run by Van Eck Global. The small cap might not be the investment giant like its brother, but it provides a diverse way for investors to enter Russia without hassles.

Following companies should be the focus of investors, as they haven't been hit with sanctions. Qiwi, another Russian company has been growing 48% per year-to-date, a feat not even China's A-shares has managed.
Novatek
Magnit
Gazprom
Sberbank
Tatneft
VTB Bank
Norilsk Nickel
Mobile Telesystems
Lukoil
Rosneft
Market Vectors Russia Small Cap Top 10 Holdings
:
Aeroflot Russian Airlines
Transneft
Pharmstandard
Magnitogorsk Iron & Steel
Qiwi
PIK Group
LSR Group
Inter RAO UES
Globaltrans Investment
Federal Grid
References:
http://www.forbes.com/sites/kenrapoza/2015/06/02/world-bank-says-russia-bear-a-bull/
http://www.forbes.com/sites/kenrapoza/2015/06/02/world-bank-says-russia-bear-a-bull/2/
http://www.forbes.com/sites/kenrapoza/2015/06/02/world-bank-says-russia-bear-a-bull/3/