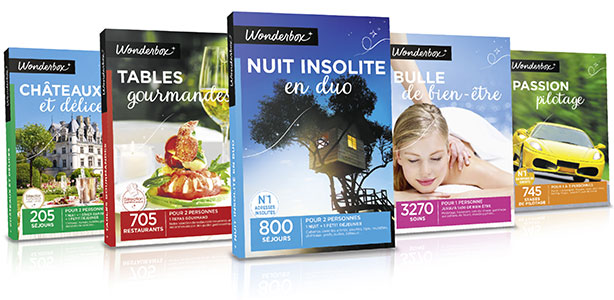 The initial concept was sound. Because a gift is not one gift, but a thousand potential gifts, it alleviates the risk of choosing the wrong gift, by opening an array of possible presents, not containing to a single one. Who hasn't brought a present, only to realize that the receiver already had it, or finding out subsequently that it was not to their taste? It always leaves a bitter feeling, that will make the buyer hesitate the next time a purchase is in order. It's simply hard to go wrong with a gift box, because the user chooses what his gift will be.
Fabrice Lepine, who heads Wonderbox, now leader on the European market,
claims
his success is namely due to the variety he has on sale. Temptation can be grand for the client to cut out the middleman. To address this risk, the company must guarantee the client that the consumer will necessarily find something to his or her taste within the catalog. All bases must be covered in the company's listing, and even create new offers, to stand out and provide additional value to the client. Fabrice Lepine remembers the early days of the company: "Ever since we started, we've placed three principles at the base of the business: innovation, self-transcendence, and constant improvement. We arrived in the second place on the market, and as soon as we started, we were facing a powerful and well-established competitor. But this only fueled our quest for excellence."
"
Beyond our will to stand out and outrun competition, we wish to innovate on the gift box market. We want to bring our customers an always-new experience in order to satisfy our users
", says the CEO of Wonderbox. A gift box also enables deporting the magic of the moment (Christmas, birthday or other) to another moment of the year (with a special mention for the unfortunate souls who were born within a week of Christmas, who must wait almost twelve months with no presents, every year). Most gift boxes can be used within an extended period, of a year or beyond.
The strength of the market is also to be praised: gift box companies are responsible for the value creation. Without solid management in the background, the entire gift box industry could quickly turn into a nightmare. Fabrice Lepine
believes
his job is "
not only to remain intellectually thorough and get the business in shape, but also guarantee rigorous financial management methods, intrinsic to our business model
". Even if responsibility for mismanagement is higher up the chain (say, the hotel owner, for instance), the client will hold the gift box company responsible, because they failed to deliver on the quality guarantee. Here, the gift box operator needs to cultivate strong relations both on the client side, through quality management, and on the supplier side, with reliable processes.
Fabrice Lepine
adds
: "
The promise Wonderbox makes is the same to all its clients, whichever boxes they may buy. The only difference in our boxes is the service they contain. If the contents vary according to the customer's needs and wishes, quality levels remain the same throughout the entire scale of sold services
". A customer unhappy with a botched stay in a spa will prove as damaging for the business than a hotel owner who is fed up with late payments, or inaccurate premise descriptions. However, the added value created by the gift box company - like a quality hotel stay, combined with well-being services and haute cuisine - will validate the gift box company's relevance in the client's mind.
But one would be well-advised not to believe that, because the market is on the rise, the seas are calm in this business. Mistakes are easily made, and success in one land does not guarantee success in the next one. Between 2009 and 2012, no fewer than six large European gift box companies had gone bankrupt: HappyDays, Doze, MagicDay, Kouro, Reves en Cadeau and Weekendtour. Many of those counted on continuous growth and became dependent on it. Upon consolidation of the market, they ran out of lift.
These mistakes were avoided by Wonderbox, who applied rigorous management processes to quality and to financial streams. Business focus website Ideals
says
"
After the first stages of development, Bertile Burel and James Blouzard realized they needed to consolidate upstream and downstream. They identified client dissatisfaction and supplier frustration as two ways to cause the business to collapse or slump
." Wonderbox set up a quality program by offering its staff (and now regular customers) the possibility to go off on a stay, free of charge, in exchange for quality reviews - the
Dream tester program
. Partnership management was also brought under careful scrutiny. Ideals adds: "
partners are free to work for Wonderbox if they wish to, and also to walk away, if they so please. The temptation of making some easy money off supplier's backs through tardy payments was therefore quickly extinguished, to the point that Wonderbox is now the quickest payer on the market.".
The application of these sound business principles allowed Wonderbox to consolidate its growth: it is currently undergoing explosive growth in Northern Europe.
In the past year, Wonderbox has strengthened its European market position with the acquisition Dutch competitor Gift4you and Belgian competitor Vivabox. Fabrice Lepine
says
"
Our main areas of growth are, on the one hand, to go to countries where we are not yet and on the other hand to continue to bring innovation to the market. We want to launch a second brand in the markets where we are already present to look for a younger clientele (with a different value offer). A box with an activity and a product inside, it is something that is already done in Belgium under the brand Vivabox."
. Wonderbox plans to expand further in Europe, where it sees still much market potential.
In many ways, business leaders would be wise to study the development of the gift box market, which is just reaching maturity now. Market-survey expert Alexander Boulegue says: "
Activity gift boxes and subscription boxes established themselves on the gift market in record time. But this market is coming to an obvious slow-down phase [...] We consider in our latest studies that activities boxes have reached maturity
". Important and unforgiving mistakes were made, strategic decisions were made, and a need was created, pretty much from scratch. Whichever major market is next to barge into our economies, should take a look.