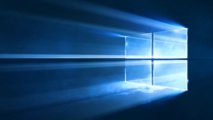 youtube
Last night, vice president of Microsoft's marketing Yusuf Mehdi said in his corporate blog that Windows 10 operating system has been loaded on 75 million computers and tablets almost all over the world (in 192 countries) within the first month after the launch. Now, according to analyst firm StatCounter, the OS is installed on 5.7% of PCs and tablets around the world. Looking back to the previous operating system in the same period after launch, sales of Windows 8 for the first month amounted to 40 million copies.

The rapid advancement of Windows 10 is largely facilitated by the fact that it is free to users, bought the two previous versions of the OS. In most cases, these were Windows 8 users. According to the vice-president of Microsoft, even some of the devices, produced in 2007, were updated to the new version.
Gartner analyst Stephen Kleynhans commented on these figures in the newspaper The Seattle Times:
- This is impressive performance. I do not think any other operating system has reached such indicators in less than six months.

At the end of yesterday's trading in the US stock exchange Microsoft shares rose in price by 5.5%.

Sales of the new operating system from Microsoft started in late July. According to the developers, the operating system, presented in January 2014, must become truly universal: it is suitable for all types of Microsoft devices, be it a PC, laptop, tablet or smartphone. All applications, coming with Windows 10, are absolutely identical for the entire range of devices, and can integrate with each other. That is, when installing on more than one device, the user's actions in one of them will be synchronized with the process on the other. Receiving notification, for example, on the Skype message to the phone, the user will not see it on their PC.

As for the system's configuration, one of the most significant for normal users distinctions from the previous version was the return "Start" button on the desktop. This element is slightly modified, and now the user pin in there whatever he deemed necessary. Internet Explorer browser, which invariably accompanied each new version of the operating system, became history. It was replaced by Microsoft Edge, which, the developers promise, will be much faster than its predecessor. Also, users will get new Office 2016 built in the new operating system.