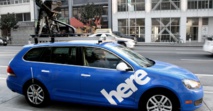 For those of us who had written-off Nokia's map, would be surprised to find out that a consortium of Germany's premium car manufacturers are finalizing a deal with Nokia wherein they will acquire it's HERE map business for a cool 2.5-3 billion euros. Although the deal has not yet been inked, but what remains to be ironed out is who will own the patents?
Nokia's HERE maps will be installed on these premium self-driven cars so that they can interface and talk to each other through mobile telephony, said two different sources who are familiar with the matter.
The acquisition of the HERE will certainly not be a straightforward affair, the question is not just about patent ownership but also about making multi-year pledges in improving the accuracy and quality of the map. For those holding their breath on the deal, it is likely to be finalized by the end of July, provided the patent issues don't act as a roadblock. At least, that is what sources say who are familiar with the deal.
The future for automobiles is certainly growing. With German premium car manufacturers wanting in on HERE, could spell good news for the industry. We can now finally expect self-driven, networked cars intelligent enough to perform routine tasks such as recalculating the route in case of traffic jams, avoiding accidents, etc.
Self-driven cars will naturally have to process a sizeable amount of real-time data so that they can navigate our concrete jungles safely and successfully. Telecom networks will most likely become and act as a crucial base for the connected car. As per analysts, self-driven connected cars is likely to become a $50 billion market.
A consortium of auto manufacturers made by of BMW, Mercedes-Benz, Audi, Volkswagen want direct ownership of all relevant patents owned by Nokia's mapping service, as per sources in the auto industry.
Although the Finnish manufacturer is playing along, it still wants to retain control of some patents, especially the ones through which mobile devices connect to networks, be it, agricultural equipment, cars, industrial machinery, or corporate networks. The underlying layer that machineries use to interface with one another and with the telephone network, could be very strategic for Nokia.
Spokesperson for Audi, BMW, Mercedes-Benz, Volkswagen, Daimler and Nokia declined to comment on the on-going deal.
Nokia is in the process of detaching itself from the map business so as to streamline, integrate and focus its business on acquiring Alcatel Lucent for 15.6 billion euros. It will report its results on 30
th
July 2015.
In April itself, Nokia had made it clear that it will no longer be in the navigation business and had thus set up an auctioning process for it's HERE mapping service. Premium car manufacturers from US, Germany and China had ogled at it, but have now pulled back leaving Germany to negotiate with Nokia.
Self-driven cars will use data from a variety of sources be it laser sensors and/or vehicle radar which it will cross reference with high definition versions of embedded maps so that it does not jump traffic signals and can successfully find alternative routes for traffic jams.
Although, there are other plays in the real-time map business such as TomTom and Google, Nokia's HERE has emerged as an industry leader for high resolution digital maps. More than 50% of its revenues can be attributed to its HERE's map business.
For Nokia, not selling its location-aware network patents could act as a bargaining chip over its competitors such as Ericson and Huawei when it enters negotiations for defining the 5G era, which is going to be the next generation mobile telephony for this decade.
Nokia's main business is selling equipment that run mobile networks. It also owns a licensing business which is expected to generate more than 1 billion euros a year.
References:
http://www.reuters.com/article/2015/07/21/us-nokia-here-sale-idUSKCN0PV1IN20150721