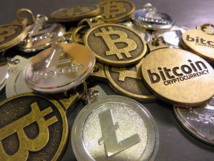 BTC Keychain via flickr
Although bitcoin's quotations are significantly higher than they were a month ago, the fall in the last days is too pronounced and have already caused a lot of noise. Losses from the highs reached almost 40%. In general, the cryptocurrency's movement almost always causes a lot of questions as it is very difficult to understand exactly what is a reason of the rise or fall. Generally, search for truth looks more like a game. However, recently there were some major versions.

Someone says that the growth of bitcoin is associated with a great future of this type of exchange and continued expansion of the infrastructure, yet there is a much more mundane version. For example, it is believed that the slowdown of the Chinese economy is provoking a large-scale capital outflow from the country. However, is not so easy to withdraw money from China: ordinary citizens need to refer to clandestine banks. Or, use bitcoin for these purposes. This version looks like a truth, because in the summer, when a real panic reigned on the Chinese market, bitcoin exchange rate has doubled.

According to other information, the rising cryptocurrency's cost may be associated with promotion of a Chinese "social financial network" MMM, which bears signs of the pyramid scheme, according to Financial Times. New members of the MMM should buy Bitcoins to join the network, created by Sergei Mavrodi. Bitcoins then are sent to other network's members as a "mutual aid." The network's participants are promised a monthly income of 30%, as well as remuneration for attracting new members and for posting recommendations on the Internet.

- The last few days were just crazy: we serve customers around the clock," - said Bobby Lee, CEO of BTCC exchange in an interview with Bloomberg.

Bitcoin currency was created in 2008. The cryptocurrency is mined by automatically solving equations by computing power. It is based on an algorithm that simultaneously complicates code with each new coin released, and limits the total amount of money in the system. The currency has an emissions limit - 21 million electronic coins.

Bitcoin is functioning without any supervisory authority or a central bank, transaction processing and issuance are carried out collectively by members of the network.