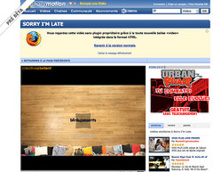 France-based multimedia company Vivendi has emerged as the new bidder for video sharing site Dailymotion, often called as the French Youtube, now that Hong Kong-based PCCW is out of the fray.
Vivendi has made a 250 million euro (£184 million) offer once the talks between Telecom group Orange, which owns Dailymotion, and PCCW ended. The Hong Kong offer was dismantled as the French government was intent on keeping Dailymotion in European control, if not French. PCCW has noted in a statement: "The French government's preferred search for a European solution discourages international companies' participation."
Vivendi's current offer will be discussed at the company's board meeting on Tuesday. Dailymotion meanwhile has been on the lookout for a suitable partner who could expand the reach of the site to an international level for almost a year. It was also in talks to sell all or part of the site to US-based technology company Yahoo, but the French government was vary over a completely French start-up getting swallowed by a US giant.
The French government itself is a 25 per cent shareholder in Orange and has noted that it did not force a complete ban on PCWW. The French officials involved in the discussion noted that the government merely wanted Orange to contact all interested companies before taking a decision. "Orange pursues discussions and works towards submitting to the board in due time solutions that are being considered," France's economy ministry said in a report.
According to the French Economy Minister Emmanuel Macron, Orange should look at all offers for Dailymotion as France was seeking to promote a strong European digital sector.
Dailymotion has around 128 million unique visitors per month compared with 1 billion for Google's YouTube. It is available in 18 different languages and 35 localized versions and is available around the world. It was founded in 2005 by Benjamin Bejbaum and Olivier Poitrey and Orange lapped a 41 per cent stake in the company by 2011. Dailymotion currently makes less than 100 million euros ($110 million) in annual sales.
Reference:
http://uk.reuters.com/article/2015/04/06/uk-orange-dailymotion-vivendi-idUKKBN0MX0YC20150406