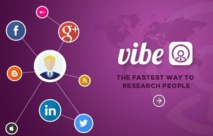 Chicago- 10 March 2015- Riding the tide of change through innovation, technology and cloud marketing resulting in instant and easy information exchange, the leading mobile marketing retailer, Vibe, has declared its new integration with Adobe's cloud marketing. Its fifteen years of practice has given it a new vision of integration which has opened up new vistas for the future consumer experience in cloud marketing.
Vibe has always promoted the industry of mobile technology to a fresh level of success, empowering the mobile relationship with its innovative Catapult program which provides a common operational platform for various channels such as text messages, push messages and notification along with mobile web, and mobile wallet options.
The market for mobile technology has grown rapidly in the last two decades allowing the mobiles to incorporate multiple functions, as a result of which today a mobile is way more than a talking gadget to us; it replaces the task of a television, music player, recorder, stopwatch, alarm clock, computer, camera, play-station, map reader, schedule planner, calendar, and plays many more such important roles in life. In this swiftly evolving market of ever growing need for innovation, Vibe has always stayed one step ahead of the rest and earned its recognition as the pioneer and "Recognized Leader in Mobile Marketing".
Keeping the needs and requirements of the consumers who often have to face unfiltered advertisements of various products, which wastes their precious time and energy, Vibe has understood the value of the consumer-retailer relationship and strove to provide more targeted options by linking the details of customer services, sales reports and marketing surveys. The result of this endeavor has successfully flourished through the "mobile relationship manager" which allowed the mobile marketers to blend in various mobile experiences and to operate different kinds of marketing messages through Google Wallet, push notification, text messages, Apple Passbook, and mobile web campaign from a common platform.
To take this experience to a yet another level, Vibe has integrated with Adobe's cloud marketing, which will provide a "closed-loop" experience to the digital marketers by integrating mobile campaigns and allowing them to manage and incorporate push and text messages, along with mobile wallet into their campaigns, contributing further into their existing campaign strategy.
A case study of Vibes Integration and Imagita using "closed-loop" strategy reveals that Imagita has amply benefitted in establishing a "deep connection with their customers" by incorporating Vibe's technology into their normal digital campaigns. The study shows that with the help of Vibe, Imagita is presently supplying digital coupons to their clients through text messages. In fact it will also be initiating a coupon system in Google Wallet and Apple Passbook along with "Mobile Wallet coupons" introduced through mails which could be "saved to Passbook and Google Wallet" in a customized manner. Moreover, the company is tracking the "effectiveness" of these campaigns with the help of "Adobe's Analytics product."
Yet after all is said and done, it should be noted that Mobile wallet and digital coupons used to create a stronger consumer-retailer relationship is only one method which gives a glimpse into the innumerable future possibilities of the mobile cloud marketing with Vibe's and Adobe's new integration.
References:
http://www.forbes.com/sites/benkepes/2015/03/10/vibes-wants-to-close-the-loop-on-mobile-marketing-integrates-with-adobes-marketing-cloud/
https://launchpoint.marketo.com/vibes/1216-vibes-mobile-marketing-technology/
http://www.vibes.com/technology/
https://www.crunchbase.com/organization/vibes-media