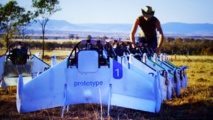 google
Last week, the world's largest retailer Wal-Mart ($ 485.65 billion turnover by the end of 2014) asked for permission to test unmanned aerial vehicles (UAVs), which the company wants to use for goods delivery to customers. The relevant inquiry is directed to the Federal Aviation Administration (FAA) of the USA. Wal-Mart have been testing the machines in a laboratory setting for several months, and now wants to experiment in the open sky.

Similar projects previously introduced the Internet giant Google and online retailer Amazon. The latter has already reported that they are ready to launch the UAV shipments, as soon as the legal restrictions are abolished.

According to experts, the use of UAVs will not only shorten product delivery - Amazon promises shipment will take less than half an hour - but also reduce transport costs, improve logistics efficiency, and ultimately serve as a growth driver in online sales. «Walmart goes head to head with Amazon, hoping to improve efficiency of their supply chain and enhance customer service" - noted an analyst at international consulting company Frost & Sullivan, Andrew Milroy in an interview with BBC. According to Cooper Smith, BI Intelligence analyst, reduced delivery times will increase online sales of retail companies. If a retailer manages to achieve a significant reduction in delivery costs, he will surely improve customer loyalty and increase his market share, as high delivery costs remain the main reason for which clients refuses to order, he said.

Wal-Mart's air delivery project is not just about optimizing logistics. The UAV-initiative completely fits into the company's plan, involving transformation of the slow-growing retail giant, depending on its revenue of 4.6 th. US stores, in a flexible e-commerce market player, which uses data and technology to promote sales.

Last month, the company suddenly announced deterioration of the profit forecast, which could be reduced by 12% in 2016-2017 fiscal year ($ 16.7 billion in 2014). The retailer have to keep low prices to counter competition and increase costs for higher salaries. Raise of delivery effectiveness and warehouse management will allow the chain to increase online sales. In the current and next fiscal year, Wal-Mart plans to spend about $ 2 billion to stimulate sales in this segment.

Wal-Mart is willing to fix the air delivery once testing is completed and the legislative ban is removed, said the retailer's representative Dan Toporek to Reuters. "UAVs have great potential in the context of improving communication between the stores of our extensive network, order processing points and transportation fleet. At least one Walmart supermarket is situated within eight kilometers radius of living communities of 70% of the US population. This is a unique opportunity to serve customers using UAVs."

Amazon and Alphabet (Google's parent company) mainly hoped to use drones for goods delivery from distribution centers to customers' thresholds. Meanwhile, Wal-Mart has offered two innovations: to deliver products from the supermarket to customers' cars, and to launch drone from bases in trucks, carrying packages of areas to be delivered directly to the customer's home or to a point agreed with them.

In addition, Wal-Mart wants to study effectiveness of drones as a means of monitoring their own trade flows. For this plan, the company is going to use electronic tagging system and other technologies. The retailer's distribution centers usually accumulate hundreds of trucks, and UAVs would quickly locate a particular commodity. The assortment of a standard Wal-Mart supermarket usually has about 120 th. commodity units.

Wal-Mart intends to use SZ DJI Technology Co Ltd. Chinese models of drones, the world's largest manufacturer of UAVs: DJI Phantom 3 cost $ 1.26 th., and DJI S900 and cost $ 3.5 th. Earlier, the FAA has approved hundreds of other companies' applications to use SZ DJI drones - it increases the chances of approval for Wal-Mart, too. According to DJI, the company controls 70% of the US market for commercial UAV. 66.1% of all commercial permits issued by the FAA fell on DJI drones. The company's revenue in 2014 was estimated at $ 500 million, and this year is projected to reach $ 1 billion.

Wal-Mart is far behind its competitors in the development of promising UAV technology. Amazon delivery was first tested in the open space in December 2013. Google reported about similar developments in August 2014, but this was preceded by not less than two years of research.

The main goal of all companies - reducing the "last mile" costs, the last and most expensive phase of the logistics in goods delivery to the end consumer. UAVs upkeep is much cheaper than a fleet of other vehicles.

According to Raffaello D'Andrea, co-founder of the UAV developer Kiva Systems, cost of the "last mile" for a 2 kg-shipping made with UAVs is just $ 0.1. Terrestrial delivery of parcels with similar parameters - $ 2-8. It was his company that Amazon bought for $ 775 million in 2012. The research firm ARK Investment Management is more modest in their estimations: UAV delivery within 30 minutes should cost $ 1. The index takes into account many variables such as costs of deploying and maintaining the UAV-group, and percentage of orders that can be processed with the use of drones.

The project, called Amazon Prime Air, assumes delivery of parcels to customers within 30 minutes after placing the order. Maximum weight of parcel is 2.3 kg. This weight spans about 86% of all goods sent from Amazon. According to Amazon plans, the device' mass will not exceed 25 kg and its speed is 80.5 km/h. The UAV will fly in a corridor of from 60 meters (the limit height of most buildings) to 152 meters (low mark of aircrafts altitude) above the ground, delivering goods in a radius of 16 km from the company's warehouses.

Within their Project Wing, the IT-giant Google initially tested the UAV-delivery in Australia and now is experimenting in the United States. The project is supervised by the IT-giant's secret unit - Google X. Initially the company contemplated fast delivery of defibrillators to people who have had a heart attack, but then switched to test delivery of ordinary items such as food and drink, which can be ordered via mobile applications.

According to the project documentation, published by The Guardian, UAVs of Project Wing weigh less than 25 kg and can reach speeds of up to 160 km/h, rising to a height of 120 meters. Google has developed a special algorithm in case of losing touch with ground control - then drone is automatically returned to the base and quickly sat down. Unlike Amazon and Wal-Mart, Google did not disclose the final destination of its commercial project, citing the confidential nature of their developments.

The main obstacle to development of retail-segment UAVs is the government. US officials fear that uncontrolled use of aircraft would endanger aircrafts, and is fraught with the overall growth of security threats - in the past year, reports on UAVs, spotted in A-plants areas, made stir in France. According to US Ministry of Transport, the number of cases of dangerous drone rapprochement with aircrafts has doubled over the last year. FAA receives about 100 such messages each month.

Work on the opening of US airspace for commercial drones began with adoption of a special law, signed by President Barack Obama in early 2012. Open space tests were allowed in May 2014. Since then, more than 2.1 th. companies received the appropriate FAA permissions, mostly studios, housing developers, agricultural and infrastructure companies.

Under current provisional regulations, working since February this year, an UAV's mass must not exceed 25 kg, speed - 160 km/h, flight altitude - 152 m. In addition, their use is forbidden near airports, as well as at night. Throwing freights off the machine is prohibited, and UAVs must remain within sight of the operator.

The FAA should develop a final version of rules governing the flying drones by June 2016. In the future, drones, commercial and noncommercial, will be subject to mandatory registration. Minister of Transportation Anthony Fox and Head of FAA Michael Huerta pronounced this at a press conference on October 19. The right to control UAVs will be granted to candidates older than 17 years, and having passed test on air traffic control, being certified every two years. The certificate's cost is expected to be no more than $ 300.

Estimates of drones sales in the US can only be approximate, since sellers do not disclose their figures, as says Dronelife.com. According to forecasts of the Association of the US consumer electronics manufacturers, around 700 thousand UAVs can be sold for the coming autumn-winter season. In September, FAA representative Rich Swayze said he expects at least 1 million units sold before Christmas. So far, non-profit operation of drones for personal purposes (for example, entertainment) is permitted in the United States. State structures (army, state universities, the police, fire fighters etc.) also have a right to experiment with drones in compliance with current safety standards.

Presenting the draft rules on commercial use of UAVs in February, Head of the FAA Michael Huerta noted that drones can be used in many different areas: to check power lines, antennas, as well as pipelines in hilly and mountainous terrain. According to officials, the new rules will open the possibility of using drones to environmentalists, in search and rescue operations, movies shooting, and participants of real estate market (aerial photographs of countryside). Agriculture and developers are interested in the technology as well.

Even the US administration recognizes significance of the UAV industry. In the February press release, the White House called drones "transformative technology that can be used in agriculture, law enforcement, with security in coastal waters, military training, search and rescue, emergency medical aid, examination of vital facilities, and many others."

According to estimates of the Accounting Chamber of the US, the economic impact of the integration of UAVs into airspace would account for $ 82.1 billion up to 2025. Association for Unmanned Vehicle Systems International (AUVSI) has a similar assessment. According to its forecasts, the drones industry would create more than 100 th. high-paying jobs by 2025.

Annual global cost of developing military and commercial UAV technologies will grow from the current $ 6.4 billion to $ 11.5 billion by 2024 and will make $ 91 billion together at this time, predicted the Teal Group in July 2014. This amount takes into account costs of research, development, test and evaluation devices. Prior to 2024, the US will have 65% of global spending on the UAVs development ($ 59.15 billion) and 41% of the supply of drones to the world market, according to the Teal Group.

World annual production of UAVs in terms of money will increase more than three times from $ 4 to $ 14 billion a year by 2015 and will be $ 93 billion in total for the next decade, predicts Teal Group. According to them, 89% of the global UAV market accounted for military supplies in 2014, 11% - on civilian. By 2024, the proportion of civilian supplies will increase - 72% of the amount of military supplies, 23% - deliveries to customers, 5% - civil supplies, according to the company.