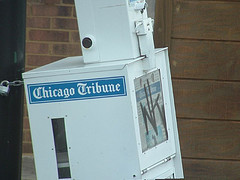 US-based media company Tribune Publishing has announced that it would be buying San Diego-Union Tribune for $85 million.

Tribune, the owner of media products such as TIME, Los Angeles Times and the Chicago Tribune, will buy San Diego Union Tribune as well as a group of nine weekly magazines in Southern California. Together the publications will reach out to 300,000 readers.

The Tribune's latest buy is one of a slew of regional acquisitions by major media conglomerates. Earlier New Media Investment Group acquired the Las Vegas Review-Journal, seven dailies and 65 weeklies from Stephens Media LLC for $102.5 million in February. In 2011, Berkshire Hathaway acquired Omaha World-Herald Co. in Nebraska for $150 million.

The deal will close by the end of June. Tribune plans to finance the deal with $73 million in cash and $12 million in Tribune Publishing common stock. UT San Diego was bought by real-estate developer Doug Manchester in 2011 for $110 million. Tribune plans to form the California News Group, joining the San Diego newspaper with the Los Angeles Times under the management of publisher Austin Beutner. Tribune had been on a buying spree in the last two years. The company acquired 38 suburban-Chicago daily and weekly titles from Wrapports LLC. A year ago, Tribune's Baltimore Sun Media Group acquired a regional group of papers in Maryland.

Mr. Beutner will be publisher of both papers and chief executive of Tribune Publishing's California News Group, which will oversee operations in both markets. U-T said Jeff Light, its president and editor, would remain at the San Diego paper. Mr. Manchester will receive $73 million cash and $12 million in Tribune Publishing stock, the newspapers said.