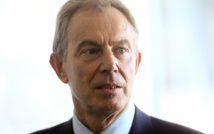 Center for American Progress via flickr
In an interview with the American CNN, the former British Prime Minister Tony Blair for the first time apologized for his role before the operation in Iraq in 2003. He admitted that false intelligence were used when deciding whether to initiate the invasion. Tony Blair said: "I also apologize for some of our mistakes in planning and, of course, a misunderstanding of what could follow the overthrow of the regime."

Asked about whether the war in Iraq is "the main cause" for the subsequent appearance of the terrorist organization "Islamic State", the former prime minister said: "I think this is the truth. Of course, we cannot say that those of us, who ousted Saddam Hussein in 2003, are not responsible for the situation in 2015 ". At the same time, according to Mr Blair, it is difficult for him to apologize for the removal of Saddam Hussein from power.

Earlier, Mr. Blair had refused to admit mistakes in the planning of operations in Iraq. In 2007, he said: "I do not think we have to apologize for what we are doing in Iraq." As we know, the pretext for the start of operations in Iraq was information related to Saddam Hussein's regime of weapons of mass destruction. Then Mr. Blair referred to British intelligence saying that Iraq continued to build chemical and biological weapons, which can be powered in 45 minutes after the order is given. After the overthrow of Saddam Hussein, it was found out that these data did not correspond to reality. In the interview, Tony Blair admitted that the information on the chemical weapons at the disposal of the Hussein regime was wrong: "Although he widely used chemical weapons against his own people and others, the program did not exist in the form we thought about."

This May, Tony Blair left the post of special envoy for the Middle East settlement. British former prime minister from the Labor Party has repeatedly been accused of conflict of interest - he is an advisor to many companies operating in this region. In addition, during his stay in office, Mr. Blair was not able to demonstrate any progress in the field of reconciliation Arabs and Israelis.