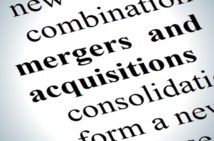 thebluediamondgallery.com
$ 160 billion

Purchase of Botox manufacturer Allergan

In November 2015, the news media announced that the American pharmaceutical giant Pfizer and registered in Ireland Botox manufacturer Allergan intend to merge and create the world's largest pharmaceutical companies. This has already been called the largest merger in the pharmaceutical industry and the third largest in M&A history. The deal is estimated at about 160 billion dollars, and closing is expected in the second half of 2016.

$ 117 billion

Merger of AB InBev and SABMiller

International brewer AB InBev (the largest in the world) has launched the process of merging with its rival SABMiller in September. Experts call this deal the biggest in the history among beverage manufacturers. The merger process must be completed in the second half of 2016. The deal amounted to about 117.4 billion dollars. Four years after, the synergy effect will be bringing to the company $ 1.4 billion annually.

$ 81 billion

Oil giant Shell's acquisition of BG

In April, Shell oil giant agreed to buy the British gas company BG Group. For each share, BG's shareholders will receive 3.83 pound and 0,4454 of Shell's shares. The acquisition price is 81.5 billion dollars. Once the agreement is signed and stamped, BG's shareholders will own 19 percent of Shell shares. Closure of the largest transactions in the oil and gas sector is expected by mid-February 2016.

$ 67 billion

The second largest deal in the IT sphere

American Dell and private equity fund Silver Lake agreed to buy the largest storage systems manufacturer EMC. The transaction was named the second largest in the technology sector after the merger of AOL and Time Warner in 2000 (165 billion dollars). It amounted to about 67 billion dollars. To finance the purchase, Dell drew loans amounting to 40 billion dollars.

$ 63 billion

Fifth in the world food manufacturer

In March 2015, the US manufacturers of products H.J. Heinz Company and Kraft Foods Group signed a merger agreement. The deal amounted to 62.6 billion dollars. The new structure will be called The Kraft Heinz Company and will become the third largest manufacturer of food and beverage products in North America, being at the time fifth in the world. According to the management's estimations, the annual revenue will be approximately $ 28 billion. The Kraft Heinz Company will own eight brands, each worth more than a billion dollars, as well as and five other brands, which are estimated at 0.5-1 billion dollars. The merger process will be completed by 2017.