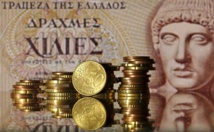 With an official of the Federal Reserve suggesting that U.S interest rates could go up, as early as September, the dollar got an additional boost and was seen hovering at levels which are its five-week high versus the yen. Overnight the dollar index scaled up to its three month high of 98.147.
James Bullard, the St. Louis President of the Federal Reserve has told the Fox Business Network on 21
st
July 2015 that the Central Bank is likely to raise interests rates in September in view of climbing inflation and a dip in unemployment figures to levels below 5%.
Hearing this news, short term, such as two-year bills, U.S treasury yields rose and shored up the greenback. The dollar stood steadily at 124.31 yen and was within striking distance of 124.39, which is its peak since June 17. Interestingly, the dollar this surge will take it a step closer to its historic high of 125.86, which it reached 13 years earlier.
From its low of 120 yen, which was at the time of the start of the Greek financial crisis, the Greenback has seen a steep steady climb. This is again despite the near vertical fall of the Chinese stock market, which saw investments rush to safer heaven of the Japanese Yen. In spite of all of these hurdles, the dollar has steadily climbed, but touching its historic high of 125 is not going to be an easy task.
"The approach to 125 yen takes dollar/yen into politically sensitive territory. Any big gains by the dollar just as the Trans-Pacific Partnership (TPP) talks are climaxing could stimulate those on both sides of the Pacific opposed to the negotiations, and the authorities would not want that," said Junichi Ishikawa, a market analyst at IG Securities in Tokyo.
The TPP trade pact negotiations amongst the 12 nations will start on 28
th
July and will end on the 31
st
of the same month. These negotiations aimed at a broader agreement will cover a humongous trade pact covering nearly 40% of the world's economy.
The euro traded cautiously at at $1.0828 against the dollar. Overnight, it has hit a 3 month trough of $1.0808 after slipping steadily since the arrival of the news that Greece will form part of the European Union.
The New Zealand dollar has under-performed against the dollar but has got a new lease of life ever since its Prime Minister John Key gave it some breathing space by stating that the 25% slide was faster than expected. The forex market seems to have paused for thought hearing his comments. It rose by 0.2% to $0.6576 after touching its historic low, seen in July 2009, of $0.6498 last week.
References:
http://www.reuters.com/article/2015/07/21/us-markets-forex-idUSKCN0PV02H20150721