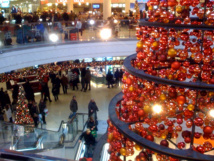 Frunny/Flickr
Traditional holiday sales season, which usually opens on Thanksgiving Day and ends on Christmas, surged in the United States. There are three major milestones for buyers on the way from Thanksgiving until Christmas - "Black Friday" (the Friday after Thanksgiving), Cyber Monday (the Monday after "Black Friday") and Super Saturday (the last Saturday before Christmas). It's time when retailers offer biggest discounts and best good deals for those who have not yet managed to buy presents and now trying to take advantage of this last chance. This year's "Black Friday" was not as active as previous, but it was offset by the record Cyber Monday. According to research firm ShopperTrak, sales in the "Black Friday" reached $ 10.2 billion, which is 11.2% lower than last year, and Cyber Monday sales were up 12%, exceeding $ 2 billion for the first time. Experts attribute this trend to increasing sentiments towards Internet shopping, rather than offline stores. In particular, during the period from Thanksgiving to Cyber Monday - that is, five days - online sales totaled $ 7.2 billion, which is 10% more than in 2014.

As analysts expect, the greatest activity of buyers this year will fall on the days leading up to Christmas. Last year, Super Saturday sales reached $ 23 billion, outranking "Black Friday", which gained $ 20 billion. This year, according to experts, there is every chance that Super Saturday will be stronger once again, given that gap between Super Saturday and Christmas is maximal (six days). According to the National Retail Federation (NRF), about 40% of total holiday sales will fall just on this period. According to NRF's study, only 10% of Americans bought all the presents before Super Saturday. On average, each American has holiday shopping done only by 53%. Many put shopping off until the last few days hoping that stores will offer even greater discounts. According to NRF, about 10% of buyers intend to shop only on 23th of December.

According to a new study of the International Council of Shopping Centers (ICSC), another 44% of Americans have not finished shopping for the holidays. This weekend, including Super Saturday, 112.8 million customers went shop for Christmas gifts, so this day will be one of the most active in the year sales. The same study shows that this year season of Christmas sales is top-performing. On average, every customer spend about $ 630 on gifts and decorations, resulting in a total of $ 140 million. Given food and drinks, also have to be purchased, the average amount of spending per buyer increases up to $ 737. "This year we have again stretched selling season. It is very similar to the situation in 2014 - said the representative of the ICSC Jesse Tron. - Consumers have not done a significant part of purchases by volume comparable to the previous year. We expect a big surge in buying activity during the last few days before Christmas".

On the last few days, retailers are making maximum efforts to attract customers and increase sales. According to market research firm Dynamic Action, number of promotions and activities for the four weeks to 12 December rose by 23% compared to the same period of the previous year. Size of discounts increased as compared with "Black Friday" discounts. Stores are prolonging working hours. For example, Toys R Us is working from six a.m. to two p.m. until Christmas. Some stores even go on non-stop operation.