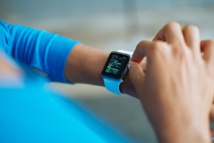 pixabay.com
Global sales of smart watches in the IV quarter 2015 reached 8.1 million, while sales of Swiss watches dropped by 5% yoy, reaching 7.9 million Moreover, the 'Swiss watches' definition implied models of all segments of the market - from the luxury and premium to mass market.

"The Swiss watches industry is very slow to respond to the development of smart watches. It actually hid its head in the sand, hoping that smart watches will disappear." - said the executive director of Strategy Analytics Neil Mawston.

Main share of the supply of smart watches went to Apple (63%, more than 5 million units) and Samsung (16%, put on the market about 1.3 million units).

In comparison with IV quarter 2014, sales of smart watches increased by 316% from 1.9 million units. Such sharp increase is linked to Apple Watches' release on the market in April 2015, says 9to5Mac newspaper.

Sales of Swiss watches in the IV quarter of 2014 amounted to 8.3 million units. On the basis of the last three months of 2015, this figure fell by 5%, estimate analysts.

The Strategy Analytics noted that some Swiss manufacturers, for example Tag Heuer, also got on with smart watches, but its share in the results of IV quarter of 2015 amounted to 1%.

Interestingly, Jean-Claude Biver, executive director of Hublot, which owns Tag Heuer, criticized Apple Watches immediately after the announcement, calling the gadget "too feminine" and "designed by a freshman." "Apple will accustom young people to wear a watches, and then, perhaps, they will want to buy a true one", - said Beaver about the upcoming competition with Apple.

Montblanc announced its model of smart watches in November last year, Breitling - in December.

MarketWatch notes that Swiss watchmakers were ready to the drop in sales. According to Deloitte's information dated 2015, 41% of watches manufacturers in Switzerland share the adverse forecasts due to falling demand for watches in China and Hong Kong and strengthening franc. However, only 25% of top managers of Swiss watches companies see a significant threat to their business in smart watches.