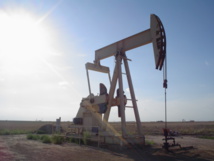 Flcelloguy
According to him, Saudi Aramco sees great opportunities in China's efforts to restructure its economic growth model and is going to continue to seek cooperation with Chinese companies.
- We see how our energy supply potentially doubles with increasing demand for them in China, - said Al-Falih to Chinese journal Caixin.
In addition, the publication mentioned that, in 2014, Saudi Aramco has supplied 13% of the total oil demand in China.
Also, the company has invested in two refineries projects in eastern province Fujian along with Chinese state-owned oil company, China Petrochemical, also known as Sinopec.
- I hope that in the future, the name of Aramco will be known in each province in China, - said Al-Falih.
The company also promises to make the products, supplied to the Chinese market, more accessible and environmentally friendly.
- We want to make environmentally friendly products that will please Chinese consumers,- noticed Al-Falih.
- At present, China has a well-built system of refineries, operated by state-owned companies. However, to meet the expectations that come with the new standards of product quality, these companies need to either be replaced or significantly upgraded, what will require
major investments.
Al-Falih supported the idea of ​​"Silk Road economic zone" and said that Saudi Arabia and China can be partners in this project.
Let us recall that Chinese and Saudis have reaffirmed their commitment to the development of bilateral cooperation in the energy sector a year ago, in March 2014. The parties committed themselves to strengthen cooperation in energy, trade and mining.

Russia, Saudi Arabia, Angola and Iran are China's biggest oil suppliers, and Saudis exported to China 49.7 million tons of oil in 2014.
The proper volume of oil production in 2014 amounted to 210 million tons.

In the first half of 2014, imports of Iranian oil to China grew by 48% - up to 630 thousand barrels a day.
It was the highest figure since the beginning of the analysis of supply, but in September 2014, the country imports decreased by almost 30%.
Saudi Aramco is the national oil company of Saudi Arabia, the largest oil company in the world in terms of oil production and the size of the oil reserves.
Also, according to Financial Times, it is the largest company in the world regarding its business value ($ 781 billion). Headquarter is located Dhahran.
Saudi Aramco controls field with oil reserves of about 260 billion barrels (99% of the Saudi Arabia reserves), what is about a quarter of the world's proven oil reserves.
The company has a great influence in OPEC and controls the production of natural gas in the country owning modern refineries and gas plants.
Its joint ventures and subsidiaries are scattered all around the world, including China, Japan, Philippines, Republic of Korea, Singapore, the United Arab Emirates, the US and the UK.
Source:
caixin
.com