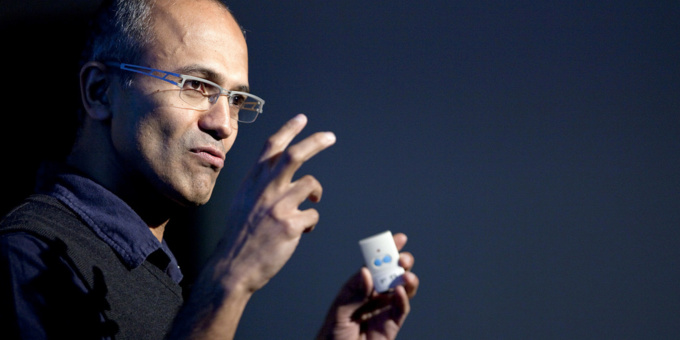 Johannes Marliem via flickr
So said Microsoft's CEO Satya Nadella at a conference of IT professionals IT-Ignite, organized by Microsoft in Atlanta.

Satya Nadella's coming to power at Microsoft fundamentally changed the Redmond company. "Microsoft is cool again," - wrote The Verge about the company, and now, two years later, nothing has changed. While Google is scheming, and Apple is turning in on itself, Satya Nadella's company keeps growing. Analysts admit that Microsoft has evolved from a hulking corporate giant to a young modern company that has enough flexibility to build its business and is willing to change – largely thanks to Nadella.

Taking on his new responsibilities, Nadella sent an e-mail to all staff.

"I am 46 years old. I've been married for 22 years; I have three children. Much of what I do and how I think has been formed by family and life experience. Those who know me say that curiosity and desire to learn are the best words to describe me. I buy more books than I can read. I subscribe to a larger number of online courses than I am able to finish. I truly believe that if you stop learning, you stop doing something new and useful. So I am defined by family, curiosity and thirst for knowledge. "

Nadella quickly charmed staff by vigorously pursuing large-scale changes in an attempt to change course and win customers back.

The steps taken included once unimaginable things, such as support of Linux operating system on Microsoft's cloud service Openwork, Microsoft Office for Apple iPad, $ 2.5 billion-worth deal with Mojang studio - developer of Minecraft cult game, release of apps such as Microsoft Outlook for iPhone and Android, skipping Windows 9 and going directly to Windows 10, creation of the company's first laptop Microsoft Surface Book, and, of course, HoloLens - super-futuristic holographic glasses.

Nadella's whole philosophy is based on partnership and maximal offers of the company's software and services (even on competing platforms). That's why his first major decision was hiring of Qualcomm's former CEO Peggy Johnson. Now, she holds the position of Vice President of Business Development and is responsible for cooperation with other companies.

"I think playing cricket taught me more about working in teams and leadership that has stayed with me throughout my career."

Satya Nadella has repeatedly told about his love for cricket. This may seem a minor point, but, in fact, exactly resonates with his reputation in the Microsoft. He believes in cooperation and collaboration, but does not think that success comes with many managers. Nadella inherited a business in serious need of restructuring, and such statements make it clear that he is ready to embrace changes without any hesitation.

Nadella has already done a lot. And investors like this: the company's shares rose 14% in the first year of his leadership, and the next showed another jump of 21%.