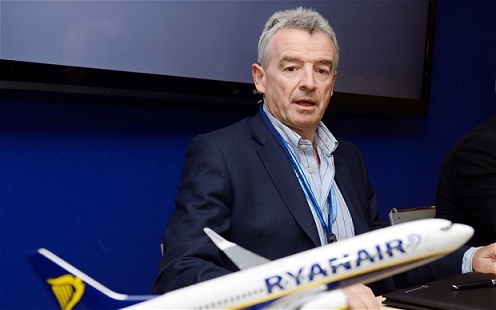 Europe's largest budget airline, Ryanair announced its plan to introduce cheap transatlantic flights by the year 2020. It is considered to be a logical development in the markets of Europe, thereby benefiting the European consumer's travel to the US and even the Americans travelling to Europe. If the airline is able to secure the planes possibly provided by Boeing and Airbus, the company plans to provide flights from almost 14 cities of the US to Europe.
The budget Ryanair that has been primarily operating throughout Western European countries, is now aiming to capture a portion of highly profitable transatlantic market conquered by legacy carriers. The board of director of the company has sanctioned a business plan for growth prospects that includes the transatlantic market. The talks over manufacturing long-haul planes are on-going.

However, the plan is in its infant stage and is likely to be implemented over the next 5 years. Ryanair would initiate by offering a promotional fare of £10 ($15), from selective cities of the US to London. However the regular charges including the passenger taxes would be nearly $200 per flight to the US from the UK. And there will be certain extra fees for baggage or reservation of the seat that are likely to be charged by the airline.

The transatlantic market that accounts for nearly 16% of international airline traffic and a massive revenue of 55%, is considered as the jewel of the worldwide aviation industry. The budget airlines have not yet planned any strategy to gain competitive advantage over their rivals, even after the signing of 2007 open-skies deal between the European Union and the US. However, the airline is planning to buy about 50 new planes featuring a business class section which was earlier not existing in its European service. The fleet of aircraft is likely to include fuel-efficient, advanced aircraft, such as the Boeing Dreamliner and Airbus A350, however it is largely dependent on when the carrier possibly will get them, as demand for manufacturing these aircraft has skyrocketed.

However, Ryanair is dependent on the usage of second-tier airports, located away from main city hubs, which thereby allows greater carrier efficiency and facilitates significant reduction of costs. The US carrier consolidation possess lesser capacity at these small markets but the business class customers may find these locations less desirable.

It has been long since the discussion started about the Irish airplane's goal to enter the lucrative US market but it was not the first company to identify the opportunity. Norwegian Air introduced its cheaper flight services in May. Besides, La Compagnie, a French airline revealed its plans for low-cost business plane services from New York to London. With flight charges of $2200, its offer pose challenges for even the large flight service providers such as American Airlines and also Air France by nearly more than half.