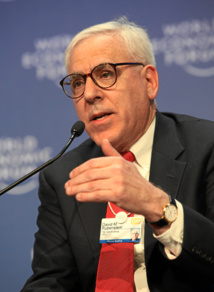 Monika Flueckiger, World Economic Forum
Billionaire David Rubenstein, co-director of co-founder of Carlyle Group, one of the largest asset management companies on direct investments in the world, came out with such estimates in an interview with CNBC. The group's total volume of assets under management of various funds is $ 193 billion.

Renowned investor presented pretty categorical vision of world energy for the foreseeable future, which seems logical, however, runs counter to popular in recent years skeptical expectations about the prospects for oil and gas sector, as well as the optimistic forecasts for the development of alternative energy.

- There is no doubt that when the value of the assets in any sector, in this case oil, remain low for some time, companies in this sector may start to experience problems with the financing. And in my opinion, this is an opportunity for potential investors and for such groups, like Carlyle, to think about the possibility of buying. I would not anticipate any large-scale fall in the value of oil companies, but I believe that now it is still possible to go into the sector at a price lower than, for example, it could be done a year ago.

- In my opinion, over time, oil prices will again begin to grow, and eventually demand would catch up with the offer. At the same time, I am confident that over time the hydrocarbon potential energy will be one of the most attractive targets for investment.

- The development of the global economy needs more energy. Whatever anybody else or I wish to happen, renewable energy still have not been able to show that it can become more efficient, less costly and just as common as conventional energy. So I'm sure that hydrocarbons will continue to be the main source of energy used by mankind.