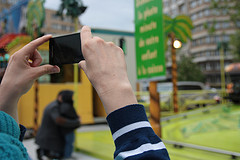 Smartphone use in the world could literally double by 2020, according to a report published by Ericsson Group.

The company has divulged that within the next five years, mobile data traffic could increase by nine fold and the total smartphone subscription in the world could go up to 6.1 billion, up from 2.6 billion. Non-smartphone phone users will be at 90 per cent utilization, saturating the market.

For mobile data traffic, the Ericsson Mobility report has found out that video will dominate the traffic up to 60 percent. The report also threw light on the geographic hotspots for smartphone growth including that around 80 per cent new subscriptions will come from Asia Pacific, the Middle East and Africa. China is expected to be home of at least 400 million mobile subscriptions by 2020.

Smartphone subscriptions in the current scenario stand at around 2.6 billion, compared to 7.1 billion total mobile accounts in the last year. Another trend that could influence this rapid growth would be the introduction of 5G.

The report also found some interesting correlation between sporting events and usage of mobile data with usage increasing five times higher than average during last year's World Cup final between Germany and Argentina. Screen size and usage of data for video viewing were also found to be symbiotic with tablet users spending an average of 50 per cent more time watching video.

Youtube continues to be the leading app that contributes to more mobile data usage. It is also the most visited app in the Android scene in the UK followed by Facebook, Chrome, Snapchat and Instagram.