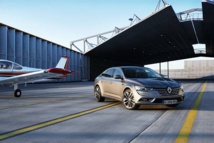 One of France's leading car manufacturers Renault has recently launched its new Talisman model, displacing the Laguna, which earlier had occupied the top spot in its premier private passenger vehicle range. It is hoped that the Talisman will pull its weight in the fiercely competitive German automobile market.
The Talisman will be pitted against heavy weights such as Mercedes and BMW. Initially, it will be marketed in France and towards the end of this year onwards, it will be sold throughout Europe, Turkey and North Africa.
During its launch in Chantilly, near the French capital, a spokesman clarified, "The market for these big road cars is about a million a year in Europe. There is no reason for Renault to be absent from the segment."
Earlier models of Laguna which were launched in 1994, had reliability issued attached to them so when the Laguna III hit the market, the trade press was critical of sticking to the Laguna brand. For they thought, brand Laguna would automatically be linked to reliability issues, in the buyers mind.
Proving the critiques right was Laguna III's dismal sales figures: only 345,000 Lauguna IIIs were sold, including 16,000 last year, whereas its first and second models sold 1.4million and 1.1 million, respectively.
So as to win over the hearts, while designing the Talisman, Renault has primarily focused on comfort, design and equipment usage. Three key areas which high-end car connoisseurs look for. It is also worth mentioning that the Talisman is bigger than any of the Laguna models, which translates to more legs space and boot space.
The name Talisman has been borrowed from an existing Renault line of cars marketed in China. The Talisman will be showcased in the Auto Motor show at Frankfurt in September.
References:
http://www.reuters.com/article/2015/07/06/us-renault-talisman-idUSKCN0PG1CK20150706