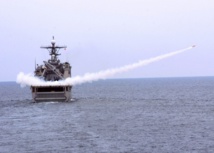 Of late, China has been muddying the waters of the South China Sea with its growing naval prowess. On its part, the Philippines has promptly dragged it to the International Court in Hague, arguing the International Court should intervene over its dispute with the Dragon over its right to exploit natural resources in the South China Sea.
A wary China has declined to participate in the case at the Permanent Court of Arbitration. However, this case could set an important precedent and is being closely watched by the U.S and regional governments alike.
Overseeing the case is a panel of 5 judges, who are hearing the arguments this week in order to decide whether this court has jurisdiction over the matter brought in front of it.
In 2013, Philippines filed a suit in the said court seeking to enforce its rights to make use of the 200 nautical mile off its coast, its "exclusive economic zone" as defined in the by the U.N's Law of the Sea.
As per the Philippines, the arbitration court is the correct venue for its redressal since both countries are signatory to the treaty Permanent Code of Arbitration in Hague, Netherlands.
"The Philippines believes the court has jurisdiction over all the claims it has made," said Paul Reichler, the lawyer representing the Philippines. He appeared to be confident that the court would rule in his favour.
China on the other hand played truant saying it did not accept the court's jurisdiction, and thus would not participate in its proceedings.
Chinese Foreign Ministry spokeswoman Hua Chunying said China did not accept the court's jurisdiction and would not participate.
"China opposes any form of arbitration process proposed and promoted by the Philippines," said Hua Chunying, a Chinese Foreign Ministry Spokesperson. His argument was that the dispute was not a matter of exploitation of rights but a matter of sovereignty.
China has grabbed most of the South China Sea which it shares with Vietnam, Taiwan, Brunei and the Philippines.
Although the hearings of the court are closed to the public, it has allowed delegates of countries, such as Malaysia, Indonesia, Japan and Thailand, to observe the proceedings after they requested it to do so.
The next aggrieved after the Philippines, is Vietnam. The Philippines is aggrieved since China does not allow it access to shoals and reefs, that are under its dominion, in the South China Sea. Japan is also bitterly disputing territories of uninhabited islands in the East China Sea.
As per Paul Reichler, even if China does not participate in the proceedings, the case could continue. Although its rulings are binding, however, the court does not have the power to enforce its judgement, and countries have ignored them in the past.
References:
http://www.reuters.com/article/2015/07/08/us-southchinasea-arbitration-idUSKCN0PH1KH20150708