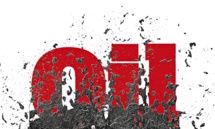 With Iran closing in on a nuclear deal which would effectively ensure that it would break free of the shackles of sanctions imposed by the United States, oil prices have reached a new low. The end of the imposition of sanction will see more Iranian oil reach the world's market.
The news that Greece has clinched an agreement with its European partners has also significantly contributed to oil reaching a new low.
Brent crude for August fell by $1.89 and reached a new low of $56.84 a barrel before again rallying back to around $57.30 by 4.40A.M. While U.S. light crude, which is also known as West Texas Intermediate (WTI), was down by $1.15 at $51.59 a barrel.
Six world leaders and Iran have reportedly on the brink of clinching a nuclear deal that would effectively break U.S imposed sanction on Teheran as well as curb its much talked about nuclear program.
As per a senior Iranian negotiator although a nuclear deal has been reached but a few extra miles of negotiations need to be covered before the deal is fomally announced to the world. Iran's Tasnim news agency quoted Deputy Foreign Minister Abbas Araqchi as saying, "I cannot promise whether the remaining issues can be resolved tonight or tomorrow night."
Sensing this, oil market pundits have forecast global oil surpluses at a time when the demand is already low. This should naturally ensure that crude will not take a deep tumble but is likely to remain low for a while now.
As per Merrill Lynch, Bank of America, the third quarter of 2015 could see the price of oil barrels "drop well below our $50 per barrel target". Mirroring this view, Commerzbank was of the opinion that a fall below $55 per barrel in Brent and below $50 per barrel in U.S. crude was "conceivable".
However, oil prices made a bold recovery when the European Council President Donald Tusk announced a "unanimously reached agreement" vis-à-vis the Greek financial crisis.
Alexis Tsipras, Greek's Prime Minister, has also confirmed that he has secured a debt restricting and medium term financing growth package from his creditors amounting to Euro 35 billion.
Gains made after the arrival of this news could not be sustained and the oil market continued to remain bearish.
"Implementation risks remain, and a possible nuclear deal with Iran should limit the upside," said Carsten Fritsch, Commerzbank's senior oil and commodities analyst.
As per analysts, it should take Iran at least a year before it can resume a full-fledged commercial export of its oil. The immediate impact of its arrival into the oil producing scene would be an additional 200,000 barrels a day, which would add to the current surplus of 2.6 million barrels a day.
With supply hugely exceeding demand and with climatic conditions not favouring the oil producers, several banks have gone ahead and lowered their forecast of the price of oil.
References:
http://www.reuters.com/article/2015/07/13/us-markets-oil-idUSKCN0PN01820150713