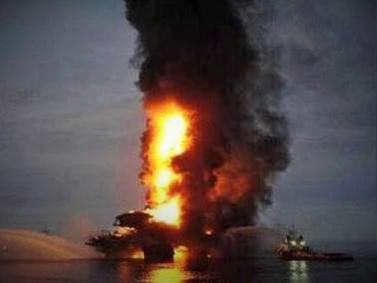 A massive blaze engulfed the oil platform in Gulf of Mexico, thereby killing 4 people. The huge flames blackened the oil platform but Pemex oil company stated that it has somehow managed to avoid the oil spill. In addition, two workers suffered vital injuries in the explosion and forced almost 300 people to abandon the operations after the breakout of fire.

The fire occurred at processing platforms where there were options to turn off the feeder lines which helped in safeguarding from environmental damages. In contrary, if it would have been an active oil well, it would have resulted into an unlimited oil spill. According to Pemex, the accident did not triggered oil spill in the sea as there was just a seepage which was already been taken care off by specialized vehicles.
Among the workers who escaped, there were few people who even jumped into water in order to escape the fire. Almost eight emergency fire fighting boats were putting efforts to extinguish the fire. After hours of water showered by emergency fire fighting boats, the fire finally got extinguished.

Since it was just a processing platform, hence it created a minimal impact on production. The production from adjacent wells that is normally being served by this processing platform can be redirected to other processing platforms. However the reason behind the explosion was some sort of mechanical problems but the investigation is still ongoing to find out the exact cause of fire.

The earlier oil spills from Mexican facilities have generally taken place at active offshore wells and not at processing stations like Abkatun. However, Abkatun is located at a distance from the coasts of states of Tabasco and Campeche. It is quiet far away from the sea in comparison to the platform that was involved in the huge fire at the offshore rig named Kab 121. In 2007, a blaze occurred at Kab 121 offshore rig resulted as high waves hit the rig, thereby sending a boom colliding into a valve assembly. As a result, 21 workers were killed and the rig dripped crude oil and natural gas for nearly 2 months.

In June 1979, the most dangerous Mexican oil spill occurred when the offshore drilling rig, Ixtoc blew up, discharging about 140 million gallons of oil. It took almost 9 months for Pemex and other US contractors to control the well. But the huge oil spill contaminated the Mexican as well as the US waters. The company faced serious security issues in the past, particularly in its onshore pipeline, where thieves stole nearly $1 billion in fuels by drilling about 2,500 illegal taps during the first nine months of the year 2014. This issues got worsened so much later in February that the company was forced to announce that it will not ship the finished usable gasoline or diesel by means of pipelines.