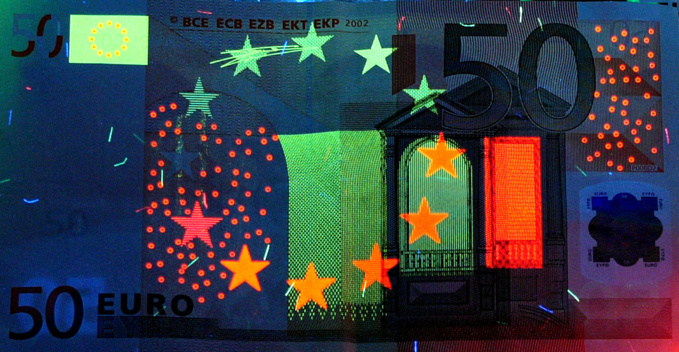 In February of 2017, the Sequana group announced its intention to sell its Banknote paper company called VHP, which Oberthur Fiduciaire presented itself as potential buyer for. VHP, based in Apeldoorn in the Netherlands and whose history dates back to the 15th century, is one of the leading "technical paper" producers in the world, and as such, one of the main suppliers to secure printing companies, who need specific types of paper to embed their security features into.
The Sequana group has been losing money over the past years, due to demand receding, and to a legal battle regarding dividend payments with the British American Tobacco company. In need of large-scale reform, it therefore opted to open its headquarters capital to shareholders of its other daughter company (specialized in paper distribution), Antalis, on which restructuring efforts would be focused. VHP Security Paper, the producing daughter company,
is to be sold off
for 30 million euros.
Thomas Savare, CEO of Oberthur Fiduciaire, chose to acquire the VHP production plant in Holland for two main reasons. Oberthur Fiduciaire, the leading French secure printing company, plans to expand its global presence and scale over the next few years. It therefore needs to increase and secure its production capacities, and the VHP Security Paper production plant is able to ship out 6500 tons of paper per year. "
It was the right choice and the perfect match for both Oberthur and VHP. (…) This new acquisition will consolidate Oberthur Fiduciaire's position as one of the largest and fastest growing banknote printers in the world
", Savare explained.
While it is possible that Oberthur Fiduciaire will continue to serve existing VHP Security Paper clients, the mother company will get the lion's share of production availability through the acquisition. In addition, Oberthur Fiduciaire's specific business model favors vertical integration and tight control of upstream and downstream partnerships. Owning the paper supplying facilities will therefore reinforce Oberthur Fiduciaire's security levels, and its clients' trust in the firm.
Oberthur's previous move already served the French group's growth ambitions in a similar way. In 2013, Oberthur Fiduciaire made an exception to its fortress-strategy, and
signed a joint venture
with the Bulgarian National Bank. Owned at 70% by the French and at 30% by the Bulgarians, Sofia saw an opportunity to attract a sizable investor in its homeland, to enter a highly competitive market and to secure workload, or even create jobs, within the printing works in Bulgaria. With this move, Oberthur Fiduciaire secures its foothold in Eastern Europe, an area in which specific national currencies were hastily introduced 30 years after the sudden fall of the Soviet Union, and the consequent deletion of its currency.
A
strong and long lasting phase of high demand
is therefore likely to arise in the area in coming years, which Oberthur Fiduciaire will be in good position to harness. Banknote suppliers are few on the global market, and
are concentrated
in Northern America, Western Europe and Asia, leaving big gaps in the world which Oberthur Fiduciaire is aiming to fill. ''
Having doubled our production and having delivered a record 4.2 billion banknotes in 2012, Oberthur Fiduciaire for the first time in its history, will work with the joint venture for the production of banknotes
'' an official statement of Oberthur Fiduciaire says.
Such an inflexion of the French company is only half-surprising in the sense that, while it has indeed always played its cards close to the chest and kept its productions means under strict control, it also has a long lasting policy to include clients into the design phase of products, to enhance trust in the delicate relationship between central banks and banknote printers. In addition, the strategy modification is warranted by the markets at stake. Banknote demand relies on
several factors
- on top of the counterfeiting risk, which banknote printers are in charge of avoiding.
The first and most recurring is banknote
durability
, and its replacement cycles. Also, political shifts may entice a government to decide the creation of new banknotes to symbolically mark a
new beginning
. Finally, while massive inflation is disastrous for national economies, it is excellent business for banknote suppliers. As banknote face values diminish, their numbers must be compensated, leading to increases in production and sales. Currently, over 26 countries in the world, including large ones like Argentina, exceed the economically problematic rate of 10% inflation. While Argentina struggles to keep afloat facing 40% inflation, newborn country South Sudan suffocates under near 80% rates, and Venezuela shocks the world with over 800% inflation rates. "
Actually it's good everywhere at the moment because inflation is around the 2-3 percent mark. Clearly if it runs higher than that and central banks don't act then it becomes a major risk
," Mouhammed Choukeir, CIO at Kleinwort Hambros told CNBC last February. But Mouhammed Choukeir only assessed Europe in
his statement
: 145 countries in the world's 223 exceed the 3% rate. These three combined factors will necessarily provide Oberthur Fiduciaire with a steady supply of clients in the world, for which it needs to expand its presence in its European birthplace.
As the technological complexity necessary to the securing of banknotes grows, the supply base of secure printers is bound to contract. Some small secure printing companies will be unable to invest in the new technologies necessary to continued production and will likely be absorbed by larger ones. In preparation of this phase, Oberthur Fiduciaire has started expanding its geographic footprint while securing the highest "euro banknote" certifications for all its facilities.