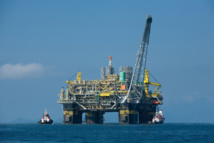 Divulgação Petrobras / ABr - Agência Brasil
"We are concerned about the number of unfavorable factors and the risk of decline in the oil market, but we still believe that oil prices in the second half of 2015 will be in the range of $ 50 - $ 60 upper limit per barrel. Although currently oil quotes come close to the minimum expected level on the ground of concerns about macroeconomic stability and expectations of increasing the supply of oil from Iran. According to our estimates, such a sharp drop in oil prices is caused by emotions, movement of capital and the change in exchange rates. The situation in the oil market is not easy, and investors pardonably fear about the prospects of oil supply and demand, however, in our opinion, there is nothing catastrophic to happen."


Moreover, the report notes that if there are no more concerns about the situation, surrounding Greece and China, expectation of growth in supply from Iran, the growing US dollar and inflexible supply on the market, as well as the suppliers of oil begin to hedge risks , serious upswing the oil market is likely to happen.

As if to confirm their words, oil becomes cheaper on Wednesday signals about proliferation crisis in China, the agency Bloomberg reports.

Investors are actively getting rid of risky assets on concern that China's measures, taken by the authorities, will not be able to restrain the decline in the stock market.

August futures for Brent oil on the London Stock Exchange fell in price by 0.7% to $ 56.45 per barrel. By the close of market on Tuesday, futures price rose by 0.55% to $ 56.85 per barrel.

The price of WTI crude oil futures for August in electronic trading on the New York Mercantile Exchange (NYMEX) fell by this time by 0.76% to $ 51.93 per barrel. At the end of the previous session, the contract fell 0.38% to $ 52.33 per barrel.

Talks between Iran and the six international mediators (the five permanent UN Security Council members and Germany) are going on, and, according to diplomats, the two sides are close to an agreement than ever before.

However, they were unable to conclude an agreement that would lift the sanctions imposed against Iran earlier to the previously established deadline (July 7).