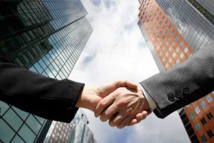 Activity in the market of global mergers and acquisitions will increase with a peak in 2017 in the developed markets and in 2018 - in the developing countries, followed by a recession. This forecast is contained in the recently published report of the research center of Oxford Economics (founded in 1981 at Oxford). Lawyers of the international law firm Baker & McKenzie helped economists analyze the trends. Economists estimate that the volume of completed mergers and acquisitions in the world will reach $ 2.7 trillion in 2015, $ 3 trillion in 2016, $ 3.4 trillion - in 2018 (at the end of 2014 in Oxford Economics counted completed transactions for $ 2, 5 trillion, the report said).

Apparently, there is some money for the deals: many American and European companies have accumulated reserves for acquisition of new assets, says the head of the Department of mergers and acquisitions Baker & McKenzie Tim Guy. Economists reinforce his words with Preqin's data, a resource for private investors, who discovered $ 1.1 trillion surplus funds in this category.

Economists call the top five countries in which we can expect growth in the market of mergers and acquisitions in 2020 - China, Hong Kong, the Netherlands, Mexico and India. In China, economic growth continues, they said. Mexico should not expect growth due to reforms in the energy sector, which for the first time in 75 years will be available for private investment and competition policy in telecommunications. As for India, the economists agreed that the attractiveness of the country is affected by the prime minister Narendra Modi's policy 'Make in India', which encourages the development of domestic production.

But there are several factors that threaten to reduce the rate of activity, according to forecast of Oxford Economics. Firstly, Greece's exit from the European Union. Next: the number of transactions will decrease if Britain leaves the European Union; hard landing of the economy will be held in China and the US Federal Reserve will raise rates sooner than expected.

Keep in mind a few key trends. The revival is expected in Asia due to the activity of Chinese investors. Europe should not expect growth in the number of mergers and acquisitions (primarily from US companies – this is explained by dollar's strong position). The most interesting regions for investors will be the United Kingdom, Germany, Spain.

Economists have noted a number of global trends. Those are the rise in interest rates in Europe, according to the results of quantitative easing, the economic slowdown in China and the decline in oil prices. The latter will inevitably affect the oil exporters. Among the latter will benefit the UAE and Saudi Arabia due to large foreign currency reserves (in May, the IMF estimated the reserves of Saudi Arabia nearly $ 700 billion). Other exporters, such as Nigeria, Venezuela and Russia, have it more difficult, they note (according to the IMF in May, Russia's foreign exchange reserves amounted to $ 356 billion).