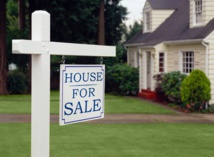 In annual terms in May, housing became more expensive by 6.3%, showing the maximum growth in 10 months.

- Mortgage rates on 30-year loans remain below 4% in May, which had a positive impact on purchases, - said Frank Nothaft, chief economist at CoreLogic.

- The markets with high demand and limited supply, for example, San Francisco, showed double-digit growth rates in prices over the last year, - he added.

It is worth noting that, according to Ministry of Commerce, sales of new homes in the US in May 2015 increased by 2.2% compared with the previous month to 546 thousand homes on annualized basis.

The index was a record since February 2008. According to the revised data, 534 thousand buildings, not 517 thousand, as previously reported, were sold in April.

According to experts, the growth of employment and the prospects for wage increases pushed the Americans to use still low interest rates on loans and buy a house. A significant rise in sales indicates that the housing market will be relatively easy cope with the normalization of monetary policy in the country, which is expected before the end of this year.

Recall that in the last month of spring 2015, increase in the level of real estate sales were recorded in all regions of the United States, led by the North-East of the country. Moreover, there is a steady annual increase for eight consecutive months, NuWire Investor writes, citing data from the National Association of Realtors. The average value of real estate in the country, regardless of its type, in May grew by almost 8% to $ 228,700.

Experts note that houses are sold quickly, and rising prices in many regions of the United States continues to balance near double digits. Without a steady increase in the level of construction and introduction of new market proposals, the prices will continue to grow at the same rapid pace – even in case mortgage rates rise above 4%.

Experts noted another important factor, which tells about the positive dynamics of the US market – it is increase in demand from newcomers, who purchase their first home. In May, they accounted for 32% of the total number of property buyers. This was the highest level since September 2012. And it is expected that demand from these customers in the coming months will continue to grow.