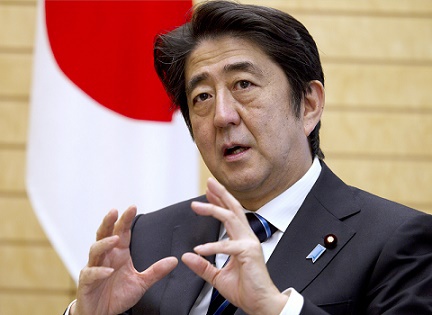 Shinzo Abe, Prime Minister of Japan has been persistently putting strong pressures on nationwide businesses to increase wages, very critical yet missing part of Japan's economic growth strategy. As a result of aggressive intervention by the prime minister, Japan's leading companies announced their plans for a major pay hike in the coming years. The companies include, Toyota and other automobile giants of the industry as well as electronic manufacturers such as Panasonic and Hitachi.

Wages are crucial for reviving Japanese economy. Household income are almost stagnant as it was 20 years ago. A tentative hike in wages previous year was erased out by rise in inflation and taxes, thereby leaving almost nothing for average Japanese and thus pulled the nation into recession. Now Japan is trying to recover from that surprising downturn. While, the rising consumer prices is declared by Japan as an indication that the potential recovery of Japan has stalled. If the wage pays are not increased, then the already distressed campaign of government to fuel growth could collapse completely.

All this gives rise to a question that whether the size of promised hike in pay will be adequate to form a virtuous circle of consumer expenditures and economic development. A modest increase of $25 to $40 per month is applicable to a minority full time workers at Japan's biggest organization. Both the Japanese businesses and labour groups displayed their satisfaction with the result, stating that this wage hike will provide the much required growth momentum to the Japanese economy.



Mr. Abe joined the office with the aim to reverse rallying Yen that squeezed profits from large companies like Toyota that do major part of its business overseas. These government policies resulted in huge profits for Japan's businesses which could be distributed among the employees in form of wage hike. The Yen has slumped and companies are flooded with cash. According to central bank of Japan, corporate cash balance reported ¥ 231 trillion or nearly $1.9 trillion in 2014 end, the highest records and around 4% higher than previous year. Now, it is time for the Japanese companies to return the support by increased pay and thus boost overall economic growth.

Toyota approved rise in baseline pay for the fulltime workers by ¥4,000 a month, over next 13 years. This is in addition to the regular hike associated to seniority, an employee's monthly pay will increase 3.2%, substantially higher than the rate of inflation. Similar raise has also been declared by other Japanese companies. Nissan announced for an increase in pay by ¥5,000 while Honda uplifted the base wage by ¥3,400. In addition, six major electronics manufacturers including Hitachi, Panasonic and Toshiba announce a rise of pay by ¥3,000. However, few businesses complain that this intervention is likely to intrude their freedom and can create hindrances for their competitiveness by raising overall cost.

Many small companies that only serve the domestic market cannot manage to pay same level of raise, as they gained less from the weak Yen. Instead, the smaller businesses are getting pressed in the present economic environment due to escalating cost of imported raw materials.