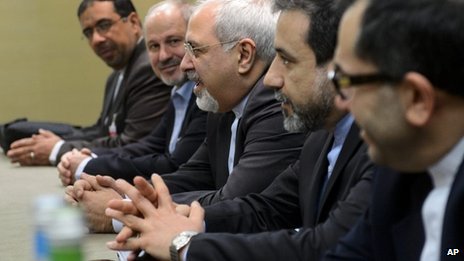 It is believed that eventhough the nuclear agreement is very close, yet it is said to be quite distant as there are certain details which needs to be taken care off. The US and its allies, particularly Israel suspects that Iran will be involved in developing nuclear weapons under the cover of this civil nuclear program. However, Tehran disagrees with the allegations. In response, Gholamali Khoshrou, Iran's UN ambassador stated his opinion that the Israeli leader seems to be worried about the success of the nuclear negotiations between Tehran, the US, Britain, Russia, Germany, France, and China. Hence, the nuclear deal is witnessing last minute difficulties in closing the deal.

The White House is hoping that the nuclear deal will create a new chapter in the relationship between Iran and the US, which was marked with huge suspicion in the past due to Iran's sponsored terrorism, retaliation by Iran and American's cyber-attacks. This deal has given rise to a political confrontation between White House and the Republicans. The continuous debate within the US politics, that the deal will not be successful in terminating Iran's bomb program and at the same time will spread a wave of steered confidence among the Arabian countries to increase their nuclear efforts. The Republican senators took a surprising move of signing a letter indicating that any deal finalized by Barrack Obama will eventually need approval from Congress.

Iran will have to ship major portions of uranium stocks out of the nation specifically to Russia. The US and its negotiating allies will in return allow Iran to keep about 6,500 centrifuges as against few hundreds discussed one year ago. The opponents are arguing that this will leave Iran with a hidden production capacity, despite of the fact that the nation will be left with limited amount of uranium. The hot topic of debate is the lifting of UN, European and American sanctions. However, the agreement aims to put limitations on Iran's nuclear assets to a level much lower than previous interim agreement. However, the six world nations are putting their efforts to limit Iran's potential by restricting the number of centrifuges and thereby capping uranium stocks. Further, the delay in agreement is due to disagreement over Iranian research & development that will facilitate nuclear fuel production at a faster pace and also the timeframe of the nuclear agreement.

In case a deal is reached, the first outcome will be that the United Nations will be required to lift the sanction thereby allowing Iran to process nuclear fuel which was banned previously. Hence, the agreement to limit nuclear capacity of Iran will itself offer such capabilities to Iran. Major oil exporter, Iran is eager to get the sanctions scrapped. Iran and the six global powers have June end deadline to sign the agreement. However, it is not clear that the anticipated agenda if reached by this month, would be either a comprehensive document or a vague one.