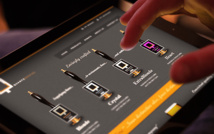 Attain Design via wilimedia
The Boston Consulting Group (BCG) is an international company, a leading consultant on business strategy specializes in management consulting, conducted a study called "The revolution in digital marketing talent".

New report is an index of Digital Capabilities Index, DCI of BCG.

This index measures the performance of companies in eight areas of digital skills, and the seven marketing channels.

The assessment helped to form a ranking of companies, based on points received (100 is the highest rate), which corresponds to the most advanced practices.

The median of 57British and German companies, which took part in the index, was 57 points.

Several companies scored 70 points, but most could not have risen above 55-60 points.

Participants from industries such as retail and financial services have shown peculiarly poor results.

The marketers' priorities also do not coincide with the trends of consumer's digital behavior.

When respondents were asked to identify three main needs for training and development of personnel in the next 12 months, almost all marketers have identified the development strategy and planning: this is the forte of participating companies from different sectors.

They attach much less importance to a number of areas related to the strategy's implementation, and more rapidly developing digital channels such as video (43 points), mobile advertising (37 points), the display advertising (27 points), and testing (44 points) .

- Companies are much more lagging behind the consumer than they think - says Dominic Field, a partner at BCG and co-author of the report. - The good news is that most companies are in the same position. Taking into account the shortage of personnel in the field of digital technology, companies that will act quickly can get ahead, and it will be difficult for rivals to catch up with them.

The study has found an obvious shortage of staff and the gap between the marketing skills and market needs in the following areas of skills and digital qualifications elements:

- Work with video, especially with the use of technologies that support consumer participation in the brand (only 38 points). Only 13% of respondents believe their companies show good results in these areas.

- Skills in the field of mobile advertising have received the lowest rating among the companies surveyed.

The lowest number of points was gained in the use of geo-location data during mobile advertising campaigns - one of the most useful features of mobile technology in terms of marketing - and the ability to determine the required level of spending on mobile advertising by analyzing data (36 and 38 points respectively). Only 9% of respondents said that their companies effectively use information about the location of customers.

- Display media. Advertisers are experiencing a serious shortage of staff in the fast-growing and important field of display advertising - programmable advertising with real-time bidding (41 points).

- Testing. Marketing is a function whose success depends increasingly on working with data.

Therefore, the basic skills of flexible marketing is the ability to test advertising campaigns to draw conclusions, to adapt the company in accordance with them and test again. However, few advertisers (7%) use online channels to test new ideas that can be implemented on offline channels (34 points on the DCI index).

- Relations with partners. Marketers are not too optimistic about the competence of digital agencies and other partners, with whom they work, as well as about the relationship with these.

Less than a third of respondents believe that their creative and media agencies are leading in the field of digital marketing.

Only 30% indicated that they work effectively with partner agencies.

While some marketers believe they can get the best results from their partners, more than half do not consider it possible.

In general, management of relations with the partners received 54 points on the DCI scale.

- Digital technologies provide powerful new marketing tools, yet employees of companies and agencies partners must have technical skills to use them, and - says Shuvo Saha, director of Google Digital Academy.