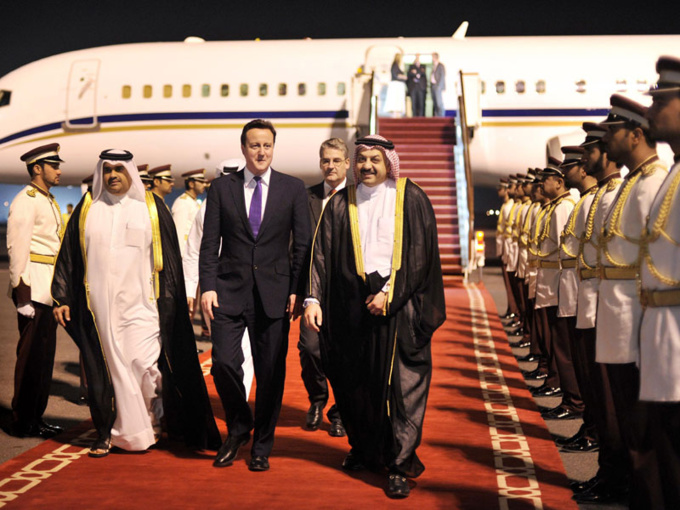 Three of Qatar's borders are made of waters from the Persian Gulf, which is dominated by large and potent neighbors, such as hostile Saudi Arabia and unpredictable Iran. In order to protect Qatar's regional independence, HE Dr. Khalid bin Mohammad Al Attiyah has invested in the most advanced naval and air defense systems which the global market has to offer.
Announced
by MBDA itself, "
1st September 2016, MBDA signed today in Doha a contract for the supply of a coastal defence system for the Qatari Emiri Naval Forces (QENF). This innovative coastal missile system will deploy two different munitions, Marte ER (the Extended Range version of the Marte missile) and Exocet MM40 Block 3, and it will be able to work in autonomous mode with its own radar, or alternatively by data-linking to a higher level within a wider coastal surveillance network. The supply of these coastal missile systems will allow the QENF to prevent hostile ships from reaching and threatening their territorial waters
.". This new missile system will be completed with the interception capacities of both Eurofighters and Dassault Rafale, both 4th generation advanced fighters, and which were recently purchased in large numbers. Pierre Tran, defense analyst for
Defense News
, says "
That order stems from Qatar exercising an option for 12 Rafale fighters, boosting its acquisition to 36, based on a contract signed May 2015, Dassault Aviation said in a statement. The Rafale fighters will be equipped with Lockheed Martin Sniper laser targeting pods. Additionally, they will be stripped of the capability to deliver nuclear weapons and will also lose NATO standard communications capabilities that were fitted for the French Air Force and Navy.
".
With Saudi Arabia, now its main regional nemesis, as its only border, Qatar fears invasion. Al-Jazeera reported "
In an interview with the Washington Post on Friday, Khalid bin Mohammad al-Attiyah said his Gulf neighbors have "tried everything" to destabilize the country, but their intentions to invade were "[defused]"
by Qatar. "
They have intentions to intervene militarily," said al-Attiyah
". However, Al-Attiyah is aware that most regional troops, including Saudi ones, use an aging fleet of BMP-3-type vehicles, standardly equipped with 30-mm cannons. Talks are underway to acquire new-generation VBCI Infantry Fighting Vehicles (IFVs) equipped with CTA-40-gun turrets. Developed by Nexter and BAE systems, CTA 40 is a new generation caliber which is far lighter and more powerful than previous-generation 30-mm cannons. A gamechanger on the tactical battlefield, it places standard IFVs at its mercy, whereas they were only threatened by heavy armor until now. Armament website Firearmblog
explains
"
Despite its 40mm caliber, the CTCS gun is only about the same size as the 30mm Mk. 44 Bushmaster II cannon used on some armored vehicles and ships, and only a little bit bigger than the 30mm RARDEN cannon used in the Warrior IFV currently. Therefore, it offers a significant firepower upgrade to light armored vehicles like the Warrior.
" CTA 40 gives IFVs firepower comparable to tanks, while increasing the speed and mobility of Infantry vehicles, thanks to reduced weight. Arthur Villasanta
says
"
In contrast, a telescoped round is one where the projectile is partially or completely enveloped by the propellant. Telescoped ammunition is some 40 percent lighter than traditional ammunition.
" With such equipment, the Qatari army would be immune to enemy mounted troops and able to strike harder and faster than its counterparts.
Eager to break the new equipment in, HE Dr. Khalid bin Mohammad Al Attiyah has signed training agreements with neighboring ally Turkey. Yunus Paksoi
reported
for daily Sabah "
Turkish military forces arrived in Qatar on Sunday as part of a bilateral agreement between the two countries to train local Qatari gendarmerie forces and ensure regional stability as well as peace, Parliamentary National Defense Committee head Yusuf Beyazıt told Daily Sabah.
". In the aftermath, Middle East Observer
announced
"
After the Grand National Assembly of Turkey (TBMM) decided to deploy troops in Qatar, Pakistan also took action to send soldiers to Qatar. Pakistan has passed a motion to send twenty thousand soldiers to Qatar. Turkey launched diplomatic initiatives to defuse the tension in the region after nine countries, including Saudi Arabia and Egypt, cut their diplomatic ties with Qatar, and tried to impose an embargo on the country. Within this framework, Turkish President Recep Tayyip Erdoğan spoke to the leaders of the countries in the region and called for dialogue for settlement of the crisis.
"
Qatar shares the goal of its regional counterparts of settling the current crisis in the diplomatic way, but such a goal must include military stabilization. HE Dr. Khalid bin Mohammad Al Attiyah knows that weak armed forces will only fuel Qatar's vulnerability and weaken its position. The best way to achieve peace, he knows, is to prepare for war. As another stilt of the stabilization strategy, Qatar has sought to acquire new sources of international support and fresh alliances. The break-off with Saudi Arabia therefore logically resulted in a new (fragile) alliance with Iran (a long-term opponent of Saudi Arabia), and the large-scale military-equipment deals are a way to revive diplomatic ties with supplying countries (France for the VBCI and Rafale, France and England for the CTA 40 turrets, and the European Union for the Eurofighter).
As the wealth of the country builds, Qatar knows it will increasingly become a yummy-looking target in the potentially unstable region and needs to compensate its small size with a professional army capable of standing its ground, facing any other in the area. In addition to the capacity for self-defense, HE Dr. Khalid bin Mohammad Al Attiyah knows that many global players need reliable security partners in the highly strategic region - hence the recent purchase of what the market has best to offer.