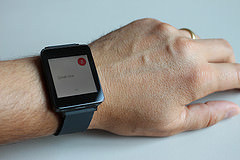 US-based software giant Google has updated its Google Wear software run on Android platform to make it as agile as Apple Watch.

The update will be available now in the new LG Watch Urbane and will help the smartwatches to work independently without being connected to your smartphones using Bluetooth. The users who have built-in wifi can connect to internet without using the phone and can also be remotely connected to any Android smartphone to get notifications. This feature will differentiate the watch from Apple Watch which can connect to the iPhone over wifi, but only on the same network. Quick access to apps running on the smartwatch is another feature on the watch, with three homescreens swiping from left to right instead of one long list. The first has apps, the second contacts and the third Google's voice search. This will do away with the dependence on voice control to use the apps in the watch.

Previously apps had been hidden by the watch face after a couple of seconds of inactivity. Both apps and watch faces fade to black and white called "ambient mode" when not being actively used. Gesture control to make navigate between cards on the watch face is another feature. Rotating the wrist away from the user will cycle through the cards and bring them full screen to use the apps in a better way.
Google is also rumoured to be working on iPhone support for its Android Wear watches, which currently only support devices using Android 4.3 Jelly Bean and up. Having launched in June, under 1m Android Wear watches had been sold by the end of 2014, while the cross-platform Pebble had sold 1m by February this year.

The smartwatch scenario is still nascent and is considered the next thing in wearable technology. Google itself had earlier dabbled in the Google Glass which is facing lot of legal hurdles.