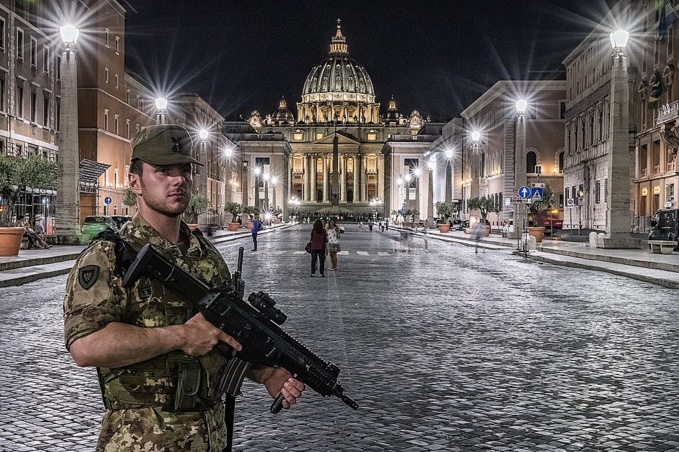 Not a leader, but not out of the armament race either
Italy is no exception to the general trend in Europe. Over the latter half of the 20th century, armament programs have suffered a tremendous increase in complexity, to the extent that managing an entire program became an option only for the most technologically and economically powerful countries. While some of the smaller countries (namely in eastern Europe) have completely dropped out of the race, and now rely almost exclusively on foreign supplies (which comes with its load of sovereignty problems), some have specialized in specific sectors of the armament market. Czech firm Tatra has, for instance, struck up a
partnership
with French defense giant Nexter to supply the off-road chassis for military vehicles. Italy has in fact fared remarkably well in the current trend, as its naval and satellite industries are still on the top global tier ( which they operate through their
partnership
with the European Space Agency, and out of French Guiana). Naval firm
Fincantieri
is very active on the global military market and recognized as a technological leader. The Italian Space Agency has also kept up with the music, using its own technological and industrial resources, as well as a network of
strategic partnerships
.
A successful partnership strategy
In a way, Italy preceded
France and Germany
in understanding that the future of European defense lied in synergies, instead of self-sufficient forces. Given the indomitable American military power, and the rising Chinese-Russian military industrial force, Rome understood it had to focus on its main areas of expertise, and leave it to partnerships to complete programs. In 2019, Emmanuel Macron and Angela Merkel gave Europe the send-off for a new phase, which had been awaited for decades: the integration of the European defense markets. In the new configuration, France and Germany (the last two countries in Europe who are still able to see all armament programs to completion) will place their industries at the leadership of the market, and mobilize European industrial resources to fulfill client orders. Italy had figured out long before that European defense industries would unite or perish and developed its economic relations with both countries (although more with France than with Germany, whose rigid economic policies have
caused friction
with Italy). Additionally, Germany causes tensions within the European scene with its ambiguous defense policy: on the one hand it produces and exports more military material more than any other, but on the other refuses to secure the sensitive areas around the outskirts of Europe, for fear that its military (granted, in poor shape) couldn't face the danger.
Talks came through earlier in 2019, when the STX-Fincantieri merger was approved in order to create a naval industrial epicenter massive enough to take on global competition. Hellenic Shipping News
reported
: "
The merger of Italian shipbuilder Fincantieri with STX France will go ahead as planned, Finance Minister Bruno Le Maire said on Friday, speaking after a period of tension between the Italian and French governments [...] Aside from the STX-Fincantieri deal, Paris and Rome are exploring the creation of a Franco-Italian naval group involving French military shipyard Naval Group and Fincantieri, a move to ward off the threat from industrial powers such as China and the United States.
" Previously, Italy had made the ground-breaking decision to merge its industrial crown jewel, Leonardo with other European assets, namely missile-maker MBDA. Defense analyst Tim Hepher
writes
: "
MBDA vies with Lockheed Martin of the United States for position as the world's second largest missiles maker after Raytheon, according to industry analysts. It was formed in 2001 through a merger of French, British and Italian interests and later absorbed activities held by Airbus in Germany.
" All of Italy's partnership moves have been successful. So what's the next one?
Few options aside from France
This is where it gets tricky. Italy clearly intends to keep its upper-intermediate position on the market: it possesses neither the resources nor the will to take the continental leadership, but will choose the position which keeps its industries connected to the pulse of the market. And since the integrated market will have two leaders, Italy must choose which partnership to favor, between Paris and Berlin. Deep insight into the diplomatic relationship and industrial reality will indicate, though, that Rome is unlikely to choose Berlin between the two. Germany has been undergoing
severe turbulence
in its own naval industry, whereas the French Naval Group is
flourishing
on the global market. Industrial partnerships could therefore be polluted if some joint ventures go sideways due to German mishaps.
More importantly, Italy is worried of the excessive weight of Germany within the European Union and fears it may
use its influence
to meddle into Italian affairs, as happened during the Greek crisis - which was not the first time relations between Rome and Berlin got strained. Independent reporter Michael Day
writes
: "
A series of rows on migration, austerity and energy supplies are sending relations between Rome and Berlin into deep freeze. Behind the forced smiles at international meetings, the relationship between Italy and Germany has rarely been as bad. Italian Prime Minister Matteo Renzi, who recently declared that his country was not subordinate to Germany, wants to steal the thunder of anti-European parties at home
." This forms another point of tension between Italy and Germany: Berlin's luxury military corvettes would come in handy monitoring migrant-rich Mediterranean waters, but are nowhere to be seen around the Hormuz strait. This casts disrepute on Berlin, which comes off as bossy and rich, but unhelpful. Recently, geopolitical analyst Stuart Lau
wrote
: "
Italy's former ambassador to China has blasted an attempt by Germany and its "satellites" to stop Italy from joining China's "Belt and Road Initiative" as unfair, saying that Berlin was happy to do business with Beijing "in every possible way". Alberto Bradanini told the

South China Morning Post on Sunday that Rome had decided to go ahead with the plan partly out of frustration at the lack of action by the European Union in tackling trade deficits with China
." German is also suspected to be permeated by Turkish influence, which is a source of concern for all southern European States. France has none of these problems and is already linked with the Italian military industry through successful partnerships - it will therefore, in all likelihood, be chosen over Germany as Italy's future partner.
Every political organization in Europe has lagged for years over the project which everybody agreed was necessary and useful to them. Now that France and Germany have finally initiated the large-scale project, some European countries will follow the lead, but Italy hasn't waited for them. Several partnerships are already in play and bearing fruit.
With the new phase
, Italian firms can draw even more potential out of the European and global markets and consolidate their position.