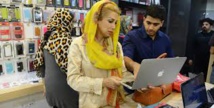 With the thawing of U.S Iran relationship, investors are racing to invest funds into Iran, which so far was out of bounds. Last week's nuclear deal made this possible. MNCs are naturally trying to get a foothold in the $400 billion economy.
Although there are some who are taking a little more cautious approach since Congress is still eyeballing the deal, Teheran's $100 billion stock market is a major economic attraction for many.
Having a population of 78 million and with its GDP higher than that of the United Arab Emirates or Thailand, Iran is classified as an upper middle class country. If the U.S Congress gives the green signal for the nuclear deal, Iran will once again be allowed to join the global economy and the global financial system.
Brokerage Renaissance Capital has predicted that $1 billion will flow into Iran once the sanctions are removed. This will most probably happen in a phased manner over the period of a few months.
First Frontier Capital Ltd, a London-based investment boutique is already in the process of setting up an Iran specific sanctions compliant fund which will allow investors to take position into Iran's $100 billion stock market, once sanctions are lifted.
"This is a market where everyone is totally underweight and there will obviously be a lot of money going in, hot money at first but then also others," explained Richard Adley, First Frontier's co-CEO. He plans on launching this iran specific fund anytime in the next couple of months and hopes to have almost 100 million euros invested by Christmas.
"And then there is a big valuation gap there, Iran has a lot of catching up to do when you look at other frontier or emerging markets," said Adley, who estimates valuations at a very cheap five to six times earnings.
First Capital is not the only firm wanting to tap into Tehran's burgeoning market. Charlemagne, a British based securities company had already announced in April that it will establish funds which are specific to the Iranian market.
Abdel Majeed CIO of MENA Capital is also all set to dip his toes into the Iranian capital market. But his approach is different, since he thinks that a country specific fund is not viable because of its inherent risk factors. Instead, he plans on investing his own firm's funds in Iranian shares, as and when the sanctions are no more.
"At the moment it may be very marketable, but at some point it will become too expensive," he said. He is already on the lookout for a suitable Iranian partner. He goes on to say, "And there is also a lot of risk in the deal that has been agreed, and the regime itself is not stable enough to last another 50 years."
Ecstrat, an investment consultancy firm and Renaissance Capital have already reported a growing increase in Iran-related research searches from asset managers preparing to make the leap.
Here are a few specific companies which could, in the short to medium term benefit, as and when the Iranian economy opens up. Amongst others, the list includes, the Savola Group – a Saudi Arabian food and packaging distribution company, the Dubai real-estate giant Emaar Properties, Turkish oil refiner –Tupras, Saipem – an Italian oil services company, French carmakers – Peugeot and Renault, Turkey's Tofas Turk Otomobil Fabrikasi, and Dogus Otomotiv.
The growing economy will also demand an upgrade to its fleet of planes which could mean more business for Airbus, Boeing and Embraer, A Brazilian firm.
Private equity firms will most probably be one of the early movers. Very likely they will either take the joint venture route or go in for a direct ownership, as per analysts.
"Firms like ours are now starting to check under the hood. There are a lot of assets there that are going to need restructuring," said AJ Mediratta, co-president of Greylock Capital Management, NY. The firm specializes in debt from emerging economies.
References:
http://www.reuters.com/article/2015/07/20/us-iran-investment-idUSKCN0PU09U20150720