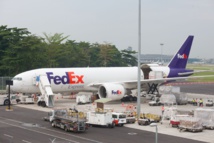 FedEx Corp, the world's largest cargo company, plans on buying 50 Boeing 767-300 cargo airplanes over the span of 10 years. For Boeing, this is the biggest ever offer it has received from a single party for the supply of aircraft.
The deal with Boeing was announced in a statement put out by FedEx wherein an option for another 50 Boeing 76Fs is mentioned. The additional 50 planes will be worth $9.97 billion at current prices.
FedEx has reported that the delivery of the aircrafts by Boeing will be spread over 6 years starting from 2018 to 2023. This is the latest drive by FedEx to upgrade and modernize its ageing aircrafts.
"Acquiring additional 767F aircraft...will enable us to reduce structural costs, improve our fuel efficiency and enhance the reliability of our global network," said David J. Bronczek, president and chief executive officer of FedEx Express.
Ever since the global financial crisis , the air cargo business has not really taken office compared to general aviation. Over capacity, competition and weak demands are just some of the reasons plaguing the industry, which in turn have reduced the need for dedicated cargo planes as well as profit margins.
However, going by Boeing's forecast, global air traffic will in fact increase by 4.7% and air traffic for cargo airplanes will double over the course of twenty years.
As per information published on its website, as of 31
st
May 2015, FedEx has a freighter fleet strength of 641. In addition to the just placed order for capacity increase it has committed to purchasing 18 Boeing 777 freighters.
On it part Boeing has been receiving a steady stream of orders. Taiwan's EVA Air has also placed an order for 5 777 freighters worth $1.5 billion.
With regard to the FedEx order, a Boeing spokesperson was pleased to say, "We appreciate the confidence that FedEx has shown in the 767."
These 767s will be replacing older freighters including the Boeing MD10s, MD11s, Airbus A300, Airbus 310 and Airbus 600 over the course of the coming years.
Although Boeing has been steadily upgrading the passenger models of its aircrafts with next generation, fuel-efficient models, the freighter versions have not been upgraded. Interesting, the Boeing 767 is also the model used by the U.S Air Force as an air-to-air refueling tanker. The U.S Air Force plans on spending $52 billion so as to develop and buy 179 airplanes.
References:
http://www.reuters.com/article/2015/07/22/us-airline-fedex-orders-idUSKCN0PW04920150722